Have you considered joining the exciting and rewarding field of dentistry? Do you want to put a smile on people's faces? If so, you are probably wondering what actually goes into becoming a dentist.
Below is more information about how you can become a dentist and even build your own dental practice!
Learn More About What a Dentist Does (and the Types of Dentistry)
While every dentist can perform general services, there are also certain fields of expertise that not every dentist chooses to become an expert in. For instance, not all dentists perform cosmetic services, and some dentists decide to specialize in fields like endodontics. For these specialists, there is specialty training, residency, and board certification.
Consider if you would like to perform general services like cleanings, checkups, dental fillings, and root canal treatment, or something more specialized. You can also add a diverse array of services that include general, cosmetic, and even specialized. This is especially so if you start your own practice and have more control over the services performed at your practice.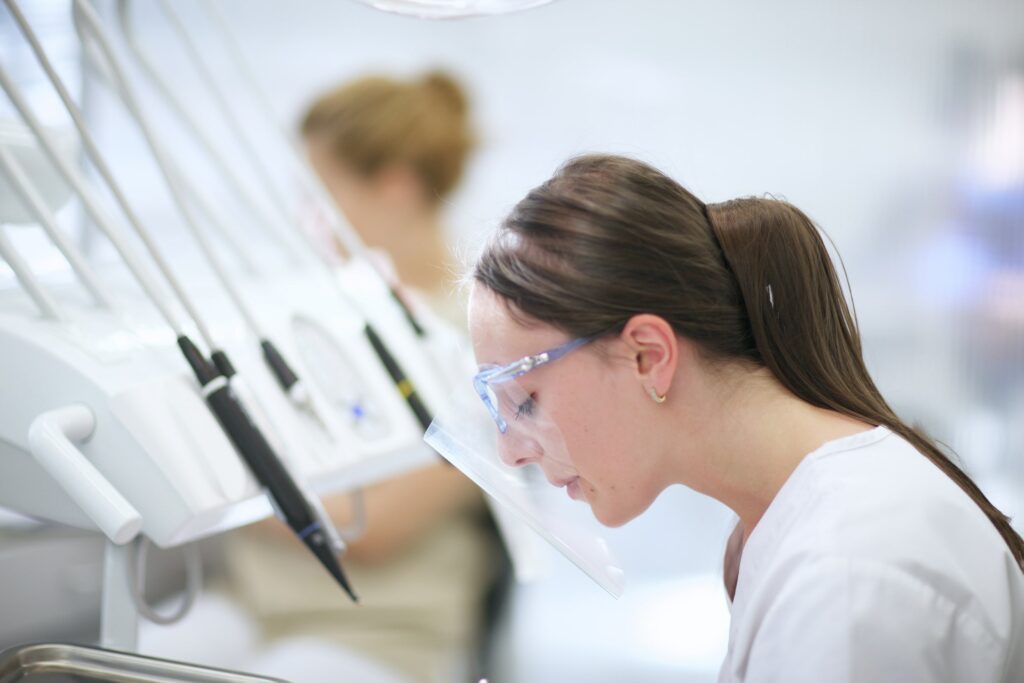 Consider Why You Want to Become a Dentist
There are a lot of benefits to becoming a dentist. You'll be entering an evergreen field that pays well and offers a lot of excellent benefits. With that said, you'll also be entering a field with a lot of interactions with patients. If "helping people" isn't high up on your list of considerations, consider a different field. If you aren't helpful or friendly, you won't make it very far.
Go to School for a Bachelor's Degree
Before anything, you'll need to get your bachelor's degree. While there aren't any specific fields you'll need to major in, you must complete a series of prerequisite courses. These courses are typically science-based and include topics such as biology, chemistry, physics, and anatomy. Most schools also require an undergraduate degree consisting of courses in English, mathematics, and social sciences.
It's important to research the specific prerequisite requirements for the dental schools you are interested in applying to, as they may vary from one school to another. You can typically find this information on the school's website or by contacting their admissions office.
Dental schools often look for well-rounded applicants who have a strong academic background and a variety of experiences outside of the classroom. Because of that, it's recommended that students pursue extracurricular activities, such as volunteering, research, or leadership positions in their communities.
Take the Dental Admission Test
Before enrollment into a dental school, you'll need to take the DAT (Dental Admission Test). This standardized test consists of multiple-choice questions on topics that include:
Reading Comprehension
Quantitative Reasoning
Perceptual Ability
Survey of Natural Sciences
This helps to test your critical thinking skills, scientific knowledge, academic ability, and other factors that are necessary for the field of dentistry.
Most experts recommend that students take the DAT in the spring or summer of their junior year of undergraduate studies, as this allows for sufficient time to retake the exam if necessary. And yes, many people do retake the DAT for a higher score. The DAT is administered by the American Dental Association (ADA), and students can register for the exam on the ADA's website.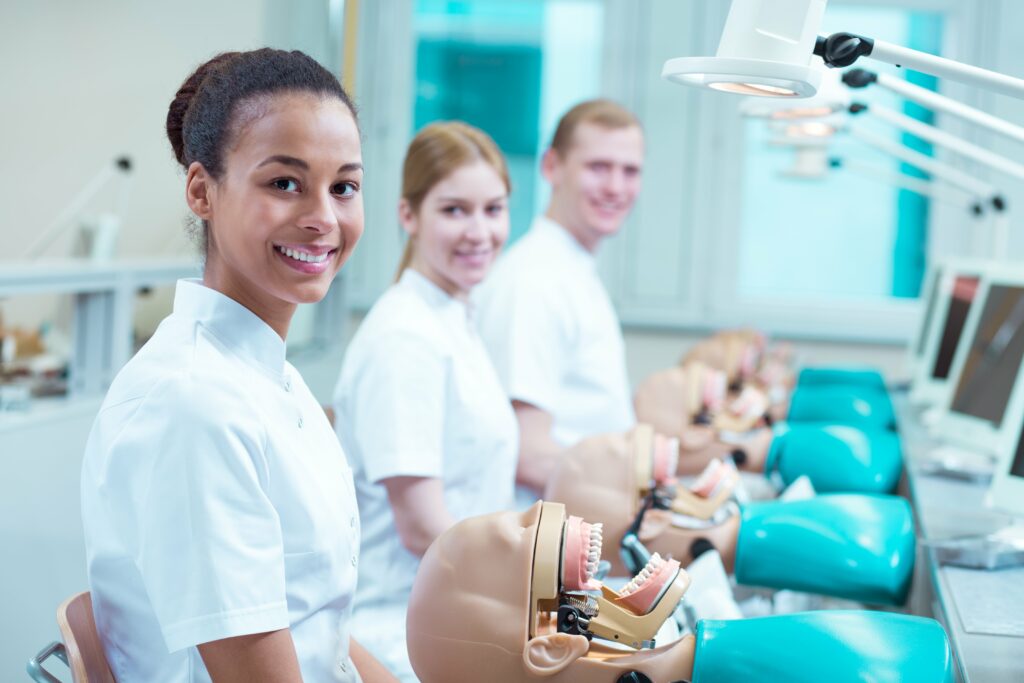 Attend Dental School
After your bachelor's degree is complete and you've passed your DAT, you'll need to apply to dental school. Often this training takes four years to complete. After graduation, you'll receive a Doctor of Dental Medicine (DMD) or Doctor of Dental Surgery (DDS) degree. You'll attend courses in biochemistry, physiology, anatomy, dental materials, and pharmacology while you are in dental school. You'll also receive hands-on training in clinical procedures and patient care.
There are currently 66 accredited dental schools in the United States, and it's important to research each school's specific program and admissions requirements before applying. You can use resources such as the American Dental Education Association (ADEA) website or the ADEA Official Guide to Dental Schools to find information on dental schools near you.
Each dental school will vary in terms of its program structure, curriculum, and clinical experiences. If you're interested in one or two specific schools, it's best to speak with current students or faculty members to gain a better understanding of the program.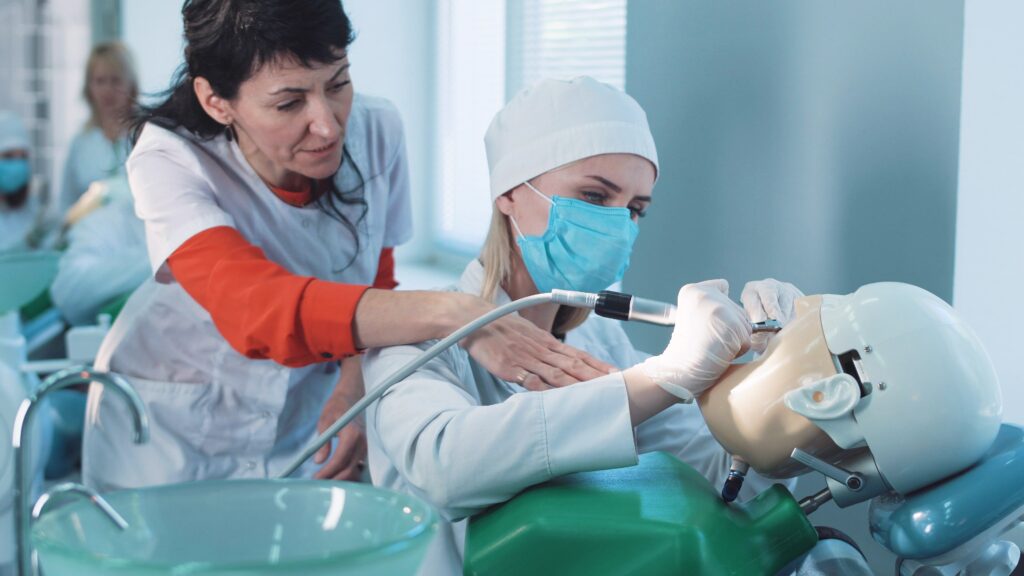 Tips for Applying to Dental School
The dental school application process can be extremely competitive, so it's important to take steps to help your application stand out. Here are some tips for applying to dental school:
Start early: The dental school application process can be lengthy, so it is recommended that students begin preparing their application materials well in advance.
Maintain a strong GPA: Dental schools typically look for applicants with a strong academic record, so it is important to maintain a high GPA throughout your undergraduate studies.
Gain clinical experience: Dental schools value hands-on clinical experience, so it is recommended that students volunteer or work in a dental setting to gain experience and demonstrate their commitment to the field.
Prepare for the interview: Many dental schools require an interview as part of the admissions process, so it is important to prepare for the interview by researching the school and practicing common interview questions.
The 4-Year Process of Dental School
Once you're accepted to dental school, you'll undergo four years of training to become a dentist. The first two years are dedicated to classroom-based learning, where students take courses in various subjects such as anatomy, physiology, biochemistry, histology, pharmacology, and pathology.
During this time, students are exposed to the fundamental principles of dentistry and gain a deep understanding of the structure and function of the human body. They also learn about the latest advancements in dental technology and research.
The last two years of dental school are focused on clinical training, where students gain hands-on experience in treating patients. Students work closely with faculty members and experienced dentists to provide a range of dental services, such as crowns, fillings, extractions, and root canals.
Throughout their clinical training, students must complete a certain number of hours in various dental specialties, such as periodontics, orthodontics, endodontics, and oral surgery. They also have the opportunity to work with different patient populations, including children, adults, and elderly patients.
Overall, the four-year process of dental school is rigorous and challenging, but it is also incredibly rewarding. By the end of the program, students are well-prepared to enter the workforce as skilled and compassionate dental professionals.
Get Your License to Practice
Congrats, you graduated! Now what? After graduating dental school, you'll need to obtain your license to practice from your state. This will usually include a written exam and clinical exam to test your abilities.
Complete a Residency at a Practice
After you've gone to school, graduated, and gotten your license, it's time to enter the world of dentistry. This means completing a residency. Often, these residencies take around one or two years, but they may be longer for certain specialized fields. During your residency, you'll get hands-on experience and will work with an experienced dentist to learn more about the procedures you'll be regularly performing. Once the residency is completed, you'll either be able to join a dental practice or start your own.
Build Your Practice or Join an Existing One?
After getting all of the experience you require to practice on your own, you have the choice of joining an existing dental practice or building one from the ground up. Obviously, joining a practice is going to be the easiest path, and it may be a good idea while you first get the feel for practicing by yourself. You'll be able to get more experience, which increases your credibility if you decide to start a practice on your own. With that said, the choice is ultimately up to you.
Steps if You Want to Start Your Own Practice
If you decide to start your practice immediately after your residency or you are planning to start a practice after you get some experience, they'll be certain considerations. These include:
Find a Great Location
In order to get the most traffic to your office as possible, you'll want to pick the right location. Your practice should be convenient to get to, visible, and should be in an area with the clientele you are looking for.
Hire Only the Best
To be successful, you need to surround yourself with top professionals. From your dental hygienists to your office staff, everyone you hire should be proficient, friendly, professional, and capable.
Market Your Practice
Once you've built your business and hired your staff, you'll want to start getting patients in the door. Marketing may include physical advertising, social media, television or radio ads, word-of-mouth, or other marketing tactics. If you pick the right location and you are visible, you may also get some walk-ins.
Put a Smile on Your Patients' Faces!
One of the main considerations as a dentist (besides practicing dentistry correctly) should be putting a smile on the faces of your patients! This means friendly service, quality treatment, and professionalism. Dentistry is a patient-facing field. If you don't like dealing with people and aren't very friendly, dentistry may not be the right field for you.
While there are a lot of advantages to being a dentist (job security, challenges, higher pay), making your patients happy should be high up on the list. If it's not, consider another high-paying field in which you aren't helping people one-on-one, day-in, day-out.
If you love working with people, overcoming challenges, and making people smile, dentistry may be the perfect field for you!
Smile Smarter,
Dr. Joyce