Whether you have a love of dentistry and you have always wanted to become a dentist or you are simply considering different career paths, you are probably wondering what it takes to become a cosmetic dentist. While this is a very complex question, there are some basic things you will need to do to become a cosmetic dentist.
Below are some of the steps to becoming a cosmetic dentist:
Understand What a Cosmetic Dentist Is
Before you start down the path of becoming a cosmetic dentist (or even consider cosmetic dentistry), it's important to understand what a cosmetic dentist is and what services they provide.
While all dentists can perform general dentistry services, some focus on cosmetic treatment. Cosmetic dentistry is a field that with a special interest in aesthetics. While cosmetic services may have functional benefits, the purpose behind cosmetic treatments is to improve the appearance of a patient's smile.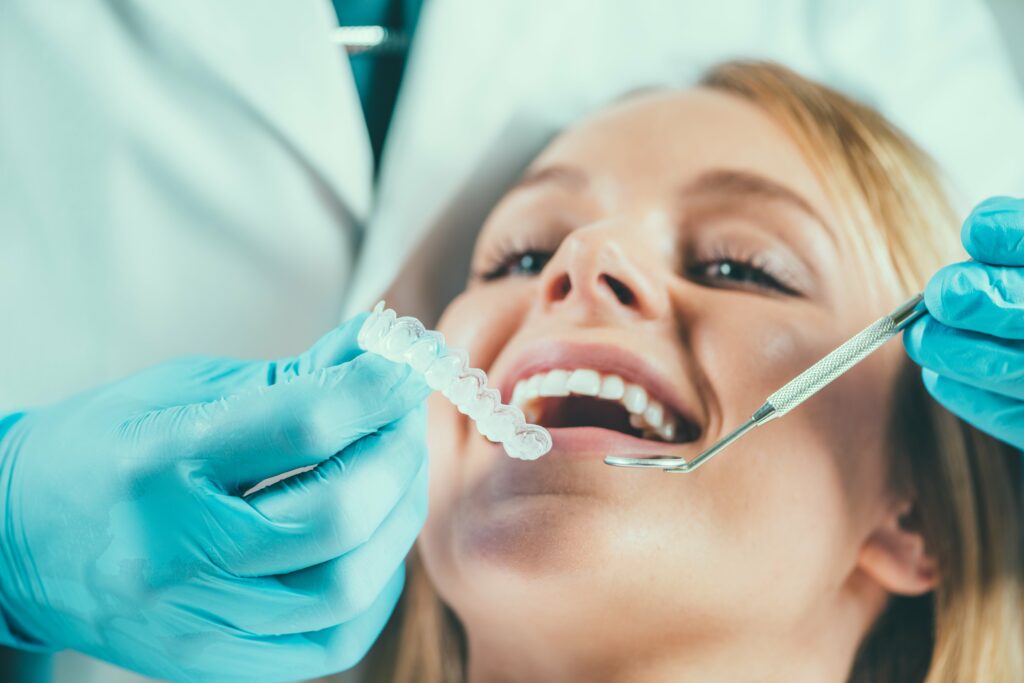 Some cosmetic dentistry treatments include:
Teeth whitening
Veneers
Dental bonding
Orthodontics
Dental implants
Gum reshaping
Obtain a Bachelor's Degree
The first thing you will need to do to get started is obtain your bachelor's degree, unless you do an acclerated program that combines undergrad and dental school like the one at the University of the Pacific (where Dr. Kahng went!). There isn't a specific major that is required to go to dental school, but you will want to take certain courses to prepare you. Many dental schools will even require these courses before entry. Often, these courses include biology and chemistry. With that said, you may be a math, engineering, or even humanities major and still be accepted into dental school.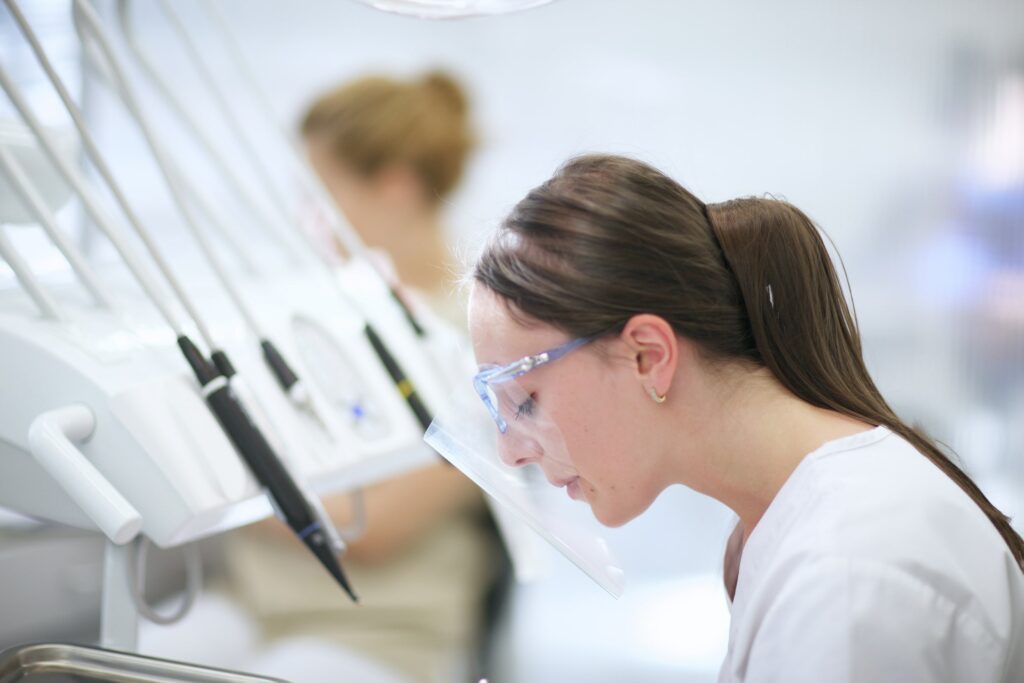 Take the Dental Admission Test
Before you apply to dental school, you need to take the Dental Admission Test (DAT). The Dental Admission Test is a standardized test that consists of multiple-choice questions that fall into 4 major categories:
Quantitative Reasoning
Perceptual Ability
Reading Comprehension
Survey of Natural Sciences
This helps to test your academic ability, critical thinking skills, scientific knowledge, and other factors that are important in the field of dentistry.
Go to Dental School
Obviously to become a dentist you need to go to dental school! After you've finished up your bachelor's degree and have passed the DAT, you can apply to dental school. This school generally takes four years to complete, however there is a 3 year dental schools such as the University of the Pacific. Once you graduate, you will receive a Doctor of Dental Surgery (DDS) or Doctor of Dental Medicine (DMD) degree. During your time in dental school, you will attend courses in anatomy, biochemistry, physiology, pharmacology, and dental materials. Along with these classes, you will receive hands-on training in patient care and clinical procedures.
Get Your License
Once you've graduated dental school, you will need to obtain your license to practice from the state. Generally, this will include a clinical exam that assesses your abilities and a written exam.
Complete a Residency
In some states, residency is a requirement for licensure.  However, anyone can apply to a General Practice Residency (GPR) or an Advanced Education in General Dentistry program (AEGD) to further their training after dental school. These residencies are generally around one or two years long and they provide more extensive hands-on training in procedures that you may not have experienced in Dental School.  A General Practice Residency is a hospital based program and will require you to take call; however, all residencies differ by size and what procedures they provide their residents. For many, the goal of residency is to work up the speed and confidence to start working in private practice.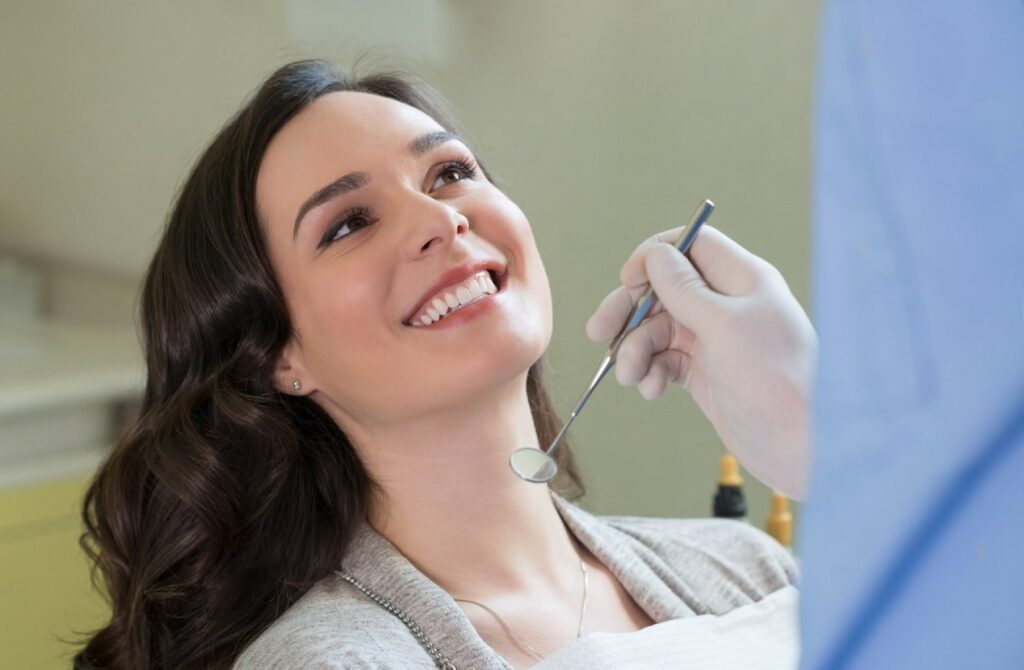 Join a Practice or Build Your Own
Once you have the experience you need, you can either join a practice or build one of your own. It may be a good idea to start by joining a practice and building your experience. Joining a practice will also give you greater insight into what it takes to actually run a dental practice. By building up experience, you also build your credibility under the guidance and mentorship of the owner dentist. While you can immediately start your practice after graduation and completing a residency, it can be a hard sell if you open a practice without much experience. With more experience under your belt, patients will be much more likely to trust you and book appointments with your practice.  If you already know you want to be a cosmetic dentist, the best option is to work for a cosmetic dentist at a cosmetic practice.  Since cosmetic procedures are not often taught well in dental school, the fastest way to learn them is through the mentorship of another dentist, combined with cosmetic oriented continuing education courses.
Once it comes time to build your own practice, there are some things you'll want to consider. These include:
Finding the Right Location
Location is very important for any business. The right location will allow you to reach the right clientele, will make it easier to find your office, and will even drive traffic to your practice simply by being visible to the road.
If you are looking to focus on helping lower-income patients, you may choose an area where those patients live. The same goes for higher-income patients. You will want to choose a location that is convenient, visible, and accessible.
Hiring the Right Staff
Your staff says a lot about your practice and you. If you hire a staff of top professionals that are friendly, helpful, and great at their jobs, your patients will be more likely to book follow-up appointments and leave positive reviews. On the other hand, if you hire a staff that doesn't care or lacks professionalism, your reputation will take a hit and patients won't want to come back.
Marketing
While there may be some word-of-mouth and foot traffic, you will likely need to run an advertising campaign to get patients in the door. There are a lot of cosmetic dentists out there and, if you live in an area with a high population, there will be that much more competition.
Your marketing campaign may include running online ads, physical advertising, social media marketing, word-of-mouth, television/radio ads, and more.
Being the Best Dentist Possible!
Once you've built your practice, you'll want to make sure you continue to be the best dentist you can be! This means continuing to learn about the field and technological advancements. It's also important to work on your communication skills so you can explain procedures to patients in a way that is easy for them to understand.
Continuing Education Courses
Cosmetic Dentists mostly learn their skills outside of dental school by investing in high-quality continuing education courses.  These courses can be broader scope, such as the Kois Curriculum in Seattle.  There are also a few specialized courses Dr. Kahng would recommend:
Photography Course
With Cosmetic cases, it is important to document for lab communication but also for the purposes of showcasing work to potential patients.  There are several good photography classes, one is @adamoelvis, another by @thedudedds, and more from the Academy of Cosmetic Dentistry.  They will teach you how to take photos that highlight your work and are more for macro photography of smiles.
Composite Course
There are at least 2 composite courses that Dr. Kahng would recommend. One is a composite course on how to layer, so that the final result mimics natural teeth.  Dr. Amanda Seay has one called im P.R.E.S., and Dr. Marshall Hansen has a great composite veneer course.  The second course to take is one that involves black triangles, such as a Bioclear course.
Veneer Course
All new dentists should take a hands on veneer course to understand the steps in creating a smile.  There are several good ones out there and a few worth checking out are from Dr. David Hornbrook and Dr. Andi Miro.  A course like this will help a dentist gain confidence, which is what is needed to land your first large case.
Invisalign Course
Invisalign is a great way to set up your cosmetic cases to be more minimally invasive.  A great course for any new dentist is br Dr. Galler.  For anyone doing Invisalign, his course is a must.
Full Mouth Reconstruction Courses
Whether you desire to do full mouth reconstruction cases, you will come across cases where a patient has lost their vertical dimension and needs to be opened up for your work to last.  It is a good idea to take this type of course so that you can identify a case that may be much more difficult in scope than what you initially thought.  This way, you can refer them, or you can try the case with the knowledge of opening vertical.  Some of this will be taught at the Kois Curriculum, but if you would like a weekend course that shows how to do this digitally, The Protocol is a great one by Dr. Ritter and Dr. Ramsey in Florida.
Gain Confidence
Cosmetic dental cases are difficult to start because they require a lot of additional education and expertise that cannot be practiced unless there are patients who accept treatment.  Once you get the ball rolling, it will be much easier to acquire patients based off of the body of your work.  Keep working on doing your best work, market yourself, and learn as much as you can from your mentor.
If you are knowledgeable, kind, helpful, and skilled, you'll set yourself apart and become the most popular dentist in town!
Smile Smarter,
Dr. Joyce