If you're a dentist who is looking to connect with a larger (or younger) audience in your area, knowing what to post on social media is one of the fastest and most cost-effective ways to connect with your community. But not all social media content is created equal; after all, why do some dentists have larger audience followings than others?
As you begin to plan your social media dentist strategy, here are some of the most important types of posts you and your practice should create:
Oral Hygiene Tips
Dentists can post about brushing techniques, flossing, and using mouthwash to maintain good oral hygiene. When in doubt about what to post, make a how-to video on something like flossing or using one of the latest electric toothbrush designs. Talk to your audience the same way you would in an in-person conversation; formal verbiage can feel stuffy.
Before-And-After Photos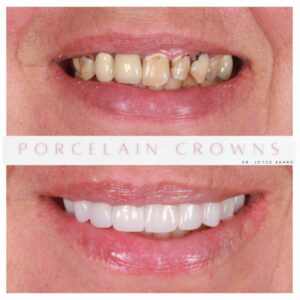 Posting photos of patients' teeth before and after a dental procedure can be an effective way to showcase a dentist's work and build trust with potential patients. If you're great at a specific treatment or want to target a particular service more often, be sure to highlight those options. For example, you might want to show before-and-after clear aligner cases, teeth whitening, or porcelain veneers. As the old saying goes, "seeing is believing." A lot of people want to see what something looks like before they're willing to try it for themselves. Social media gives you full, free access to share your completed cases.
Patient Testimonials
Dentists can share testimonials from happy patients, which can help build social proof and credibility. Happy patients sharing their experiences in your practice is one of the best ways to convert new patients. Word-of-mouth marketing is often one of the most trusted sources of information, especially when it comes to healthcare providers. Encourage your patients to write a testimonial before they leave the office or even volunteer for a video talking about their experience with you and your team. You don't have to be anywhere in the post!
Educational Videos
Posting educational videos about dental procedures, common dental problems, and how to prevent them can be an effective way to educate and inform followers. A lot of dental misinformation on the internet can cause people to avoid dental treatment or experience painful emergencies simply because they don't know better. Consider yourself a myth buster and share tips and tricks talking about how your mouth really works and ways to keep your smile healthy for life.
Seasonal Oral Health Tips
Dentists can provide oral health tips tailored to different seasons, such as how to protect teeth during summer or how to prevent cavities during the holiday season. If you've been in dentistry for very long, you know that emergencies arise when kids start playing summer sports or are out of school. Talk about annually appropriate oral health trends. Knowledge is power, and patients will love you even if they're not geographically located near your office.
Dental Trivia
Posting dental trivia questions and answers can be a fun way to engage followers and educate them about dental health. Consider going "live" and interacting with your audience at peak times so that you can interact with them and ask what they think. Or plan ahead with a trivia question, then explain the answer; you can always follow up and address the comments after the fact (or in a follow-up post.)
Behind-The-Scenes Photos
Dentists can post behind-the-scenes photos of their practice, including the tools and equipment they use, to give followers a glimpse into the dental world. Patients absolutely love getting a sneak peek behind the scenes in healthcare practices, including dentist's offices. Consider showing off your latest investment or how an advanced piece of equipment works, then explain why it's worth visiting a dentist who uses those resources. That way, they'll instinctively consider you an expert in the field and think about what your office has to offer when they're considering a new dental provider.
Community Events
Dentists can post about community events they are participating in, such as dental health fairs, charity events, or speaking engagements. It's important to give back to your community, and although you don't want to boast or brag about it, these videos and photo posts are important for patients to see. When people know you're invested in bettering the lives of people around you, they'll re-frame the way they think about you as a dental provider.
Healthy Eating Tips
Dentists can post about the impact of diet on oral health and share tips for eating foods that are good for teeth and gums. For example, you might want to discuss how chewing xylitol gum is beneficial for plaque reduction. Or you could post about how certain mid-day snacks are better or worse for your teeth. Maybe you can talk about which foods are rich in Omega-3 fatty acids for healthier gum tissues. The list could go on and on!
Oral Health News
Posting news articles or studies related to dental health can be an effective way to stay up to date on the latest research and trends in the industry and share that information with followers. This serves two purposes: one, it establishes you as an expert who is continually discovering the latest scientific trends in dentistry; two, it educates your patients. The better educated your patients are, the more likely they'll follow through with recommended treatment plans or see a dentist if they're experiencing a concern.
Rotating through each of these different topic ideas will keep your content fresh and interesting and help you connect with audiences. After they go live, look back over your data to see which posts are performing well, then consider making follow-up videos or posts, including Q&A sessions where you directly interact with the comments posted by your followers. As you develop your niche, you can post more things in specific categories, depending on what your followers like, share, or comment on.
Smile Smarter,
Dr. Joyce