Your children deserve the best in everything. This includes their toothpaste! There are a lot of toothpaste brands to choose from, though. So, which one is right for your little one?
Below is more information about the difference between adult and kid toothpaste, the best brands for kids, and more.
What Is the Difference Between Adult and Kid Toothpaste?
Adult and kid toothpaste is pretty similar with a few key differences. One is the amount of fluoride. Often, children's toothpaste has less fluoride or even no fluoride at all. The other main difference between adult and kid toothpaste is the flavor. Children's toothpaste is often flavored to taste like fruits and sweets to encourage them to brush their teeth more while making the experience more enjoyable overall.
What Are the Best Toothpaste Brands for Kids?
There are a lot of fantastic toothpastes made for children these days. Amongst them is Training Toothpaste, but training toothpaste does not contain fluoride and has minimal ingredients.  It's sole purpose is to help your child practice spitting.  Below are some of the top cchoices for kids toothpastes…
Tom's of Maine Anticavity Fluoride Children's Toothpaste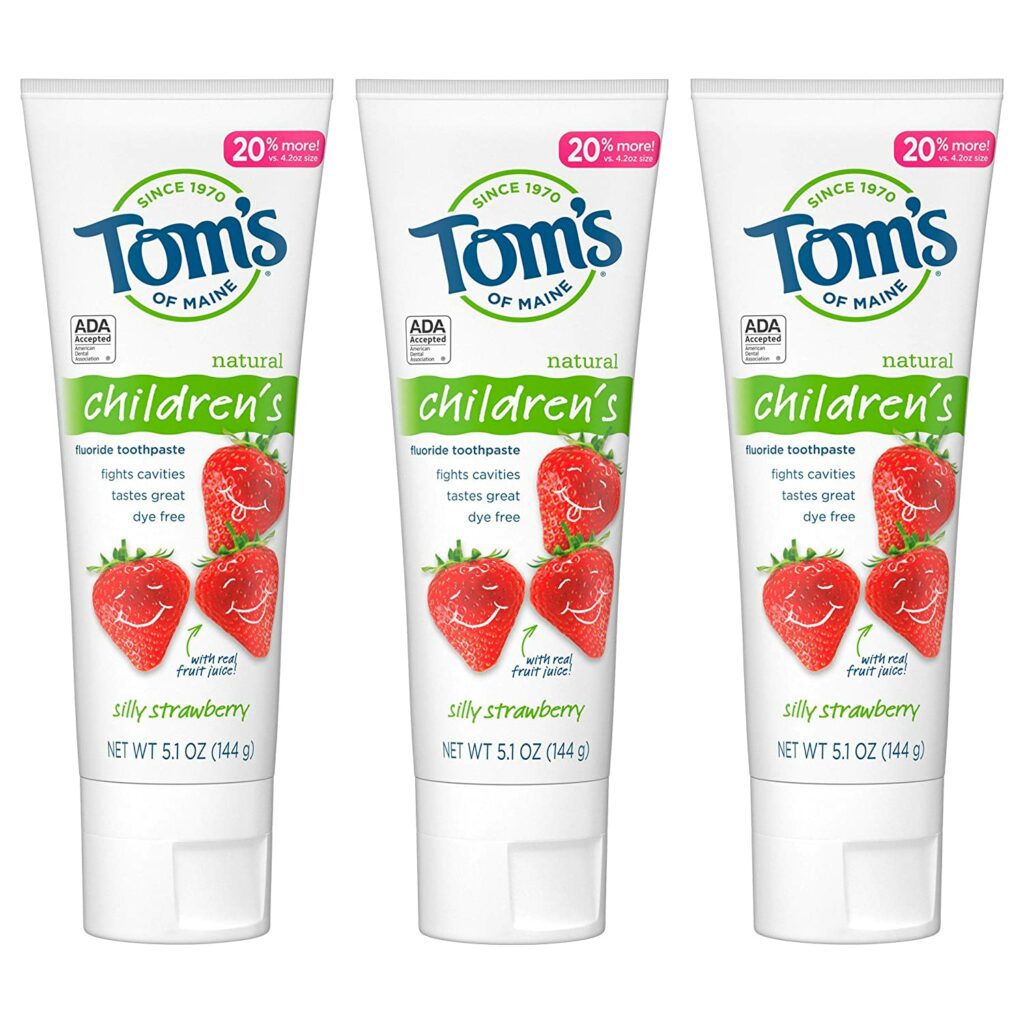 This toothpaste is effective and natural. It also comes in a variety of flavors, such as orange mango, silly strawberry, and wild blueberry. It contains fluoride, which helps to prevent cavities. You can find it on Amazon.
Hello Oral Care Kids Toothpaste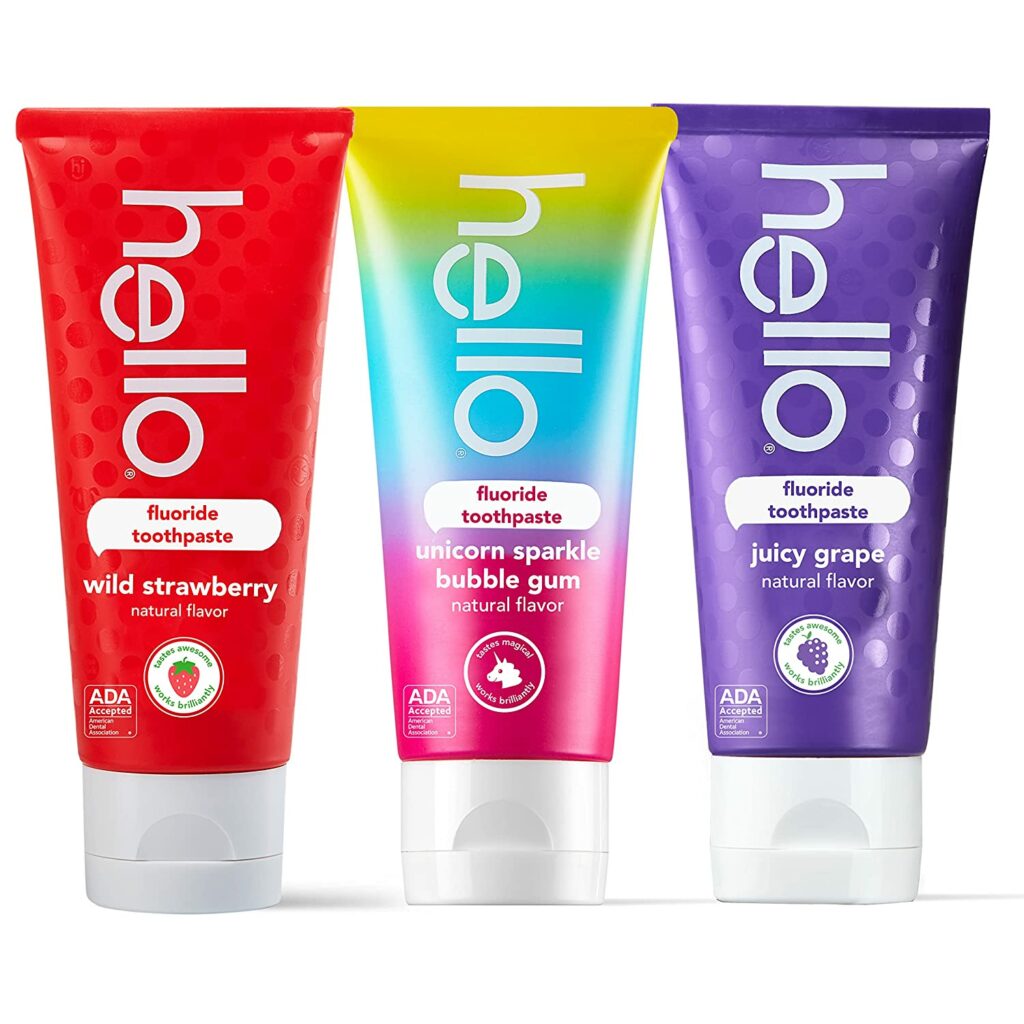 This vegan, cruelty-free, toothpaste is free of artificial sweeteners, flavors, and dyes. It has flavors that kids love and fluoride to prevent cavities and strengthen enamel. This is one of Dr. Kahng's favorites that she uses on her son (Grape flavor). You can find it on Amazon.
Aquafresh Kids Cavity Protection Toothpaste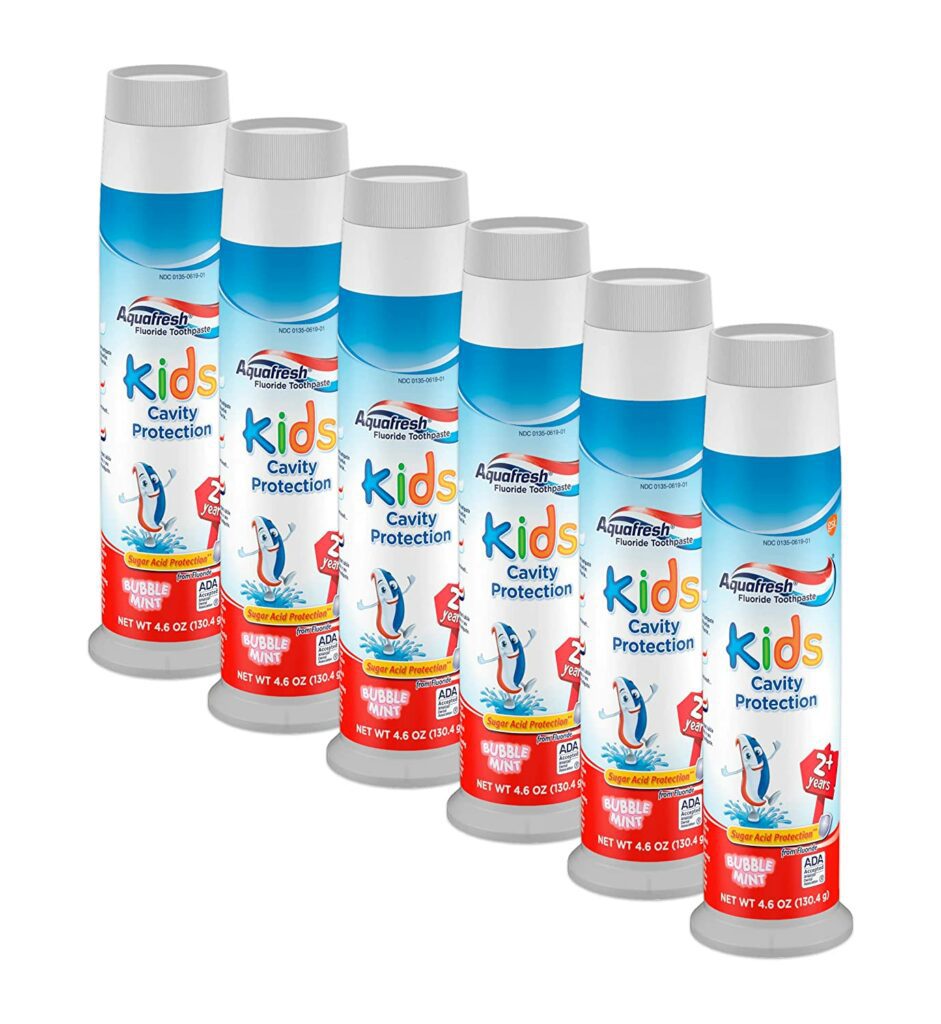 This bubble mint-flavored toothpaste has a stand-up pump that makes it easy for kids to use. It is great for kids because although it is minty in flavor, it is NOT SPICY.  It contains sugar acids and calcium to strengthen teeth and fluoride to prevent cavities. You can find it on Amazon.
Burt's Bees for Kids Fluoride Toothpaste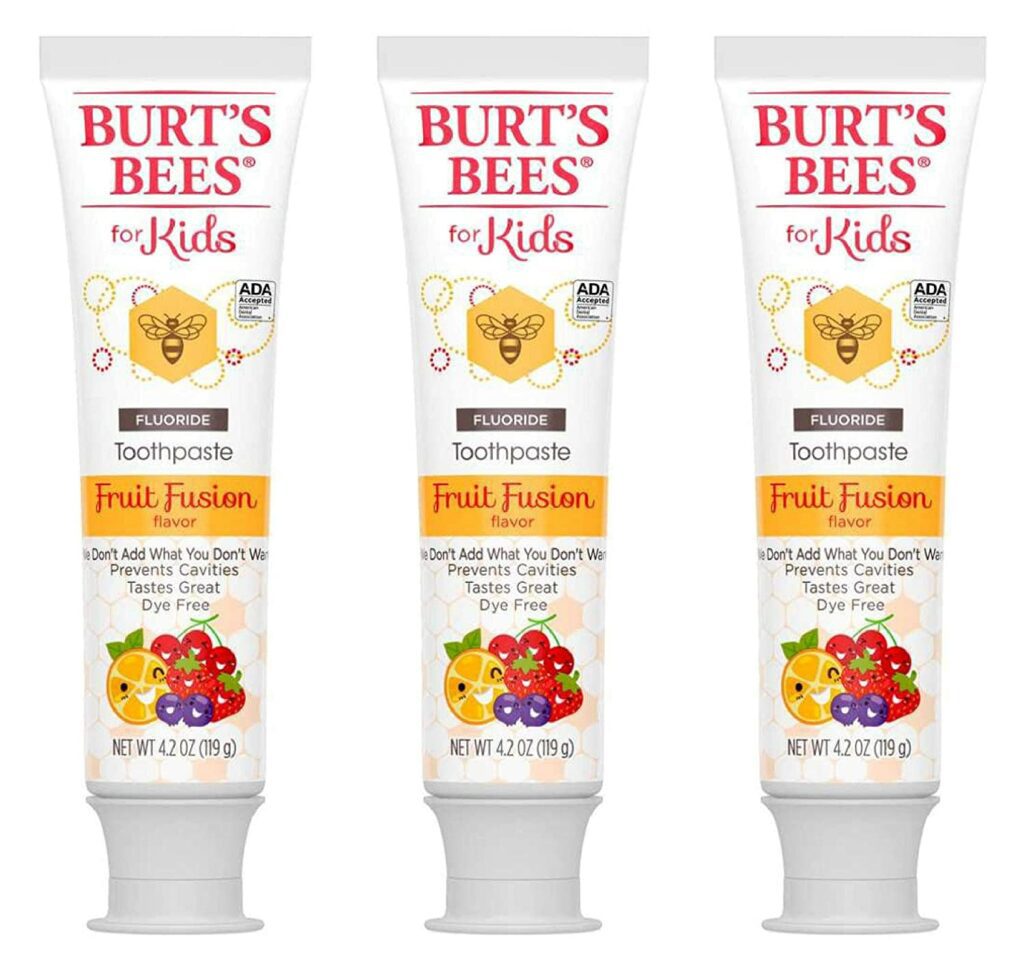 This is a great FRUITY option for kids! Part of what sets this toothpaste apart is the high-quality ingredients used. It also has fluoride to prevent cavities. You can find it on Amazon.
Tanner's Tasty Paste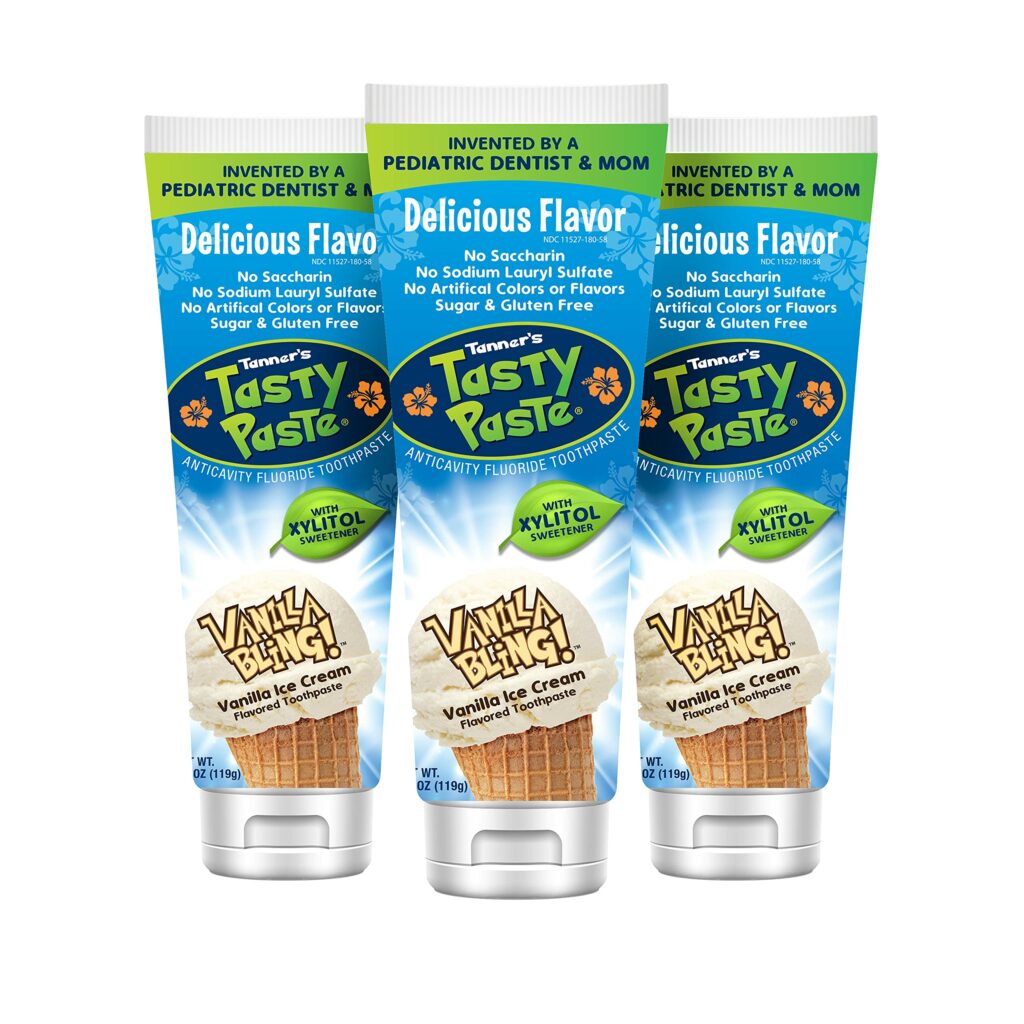 This is another NON FRUIT option for kids that is usually tolerated well and has a Vanilla or Cha Cha Chocolate flavor.  It also has fluoride to prevent cavities and was developed by a Pediatric Dentist Mom.  You can find it on Amazon.
Risewell Kids Toothpaste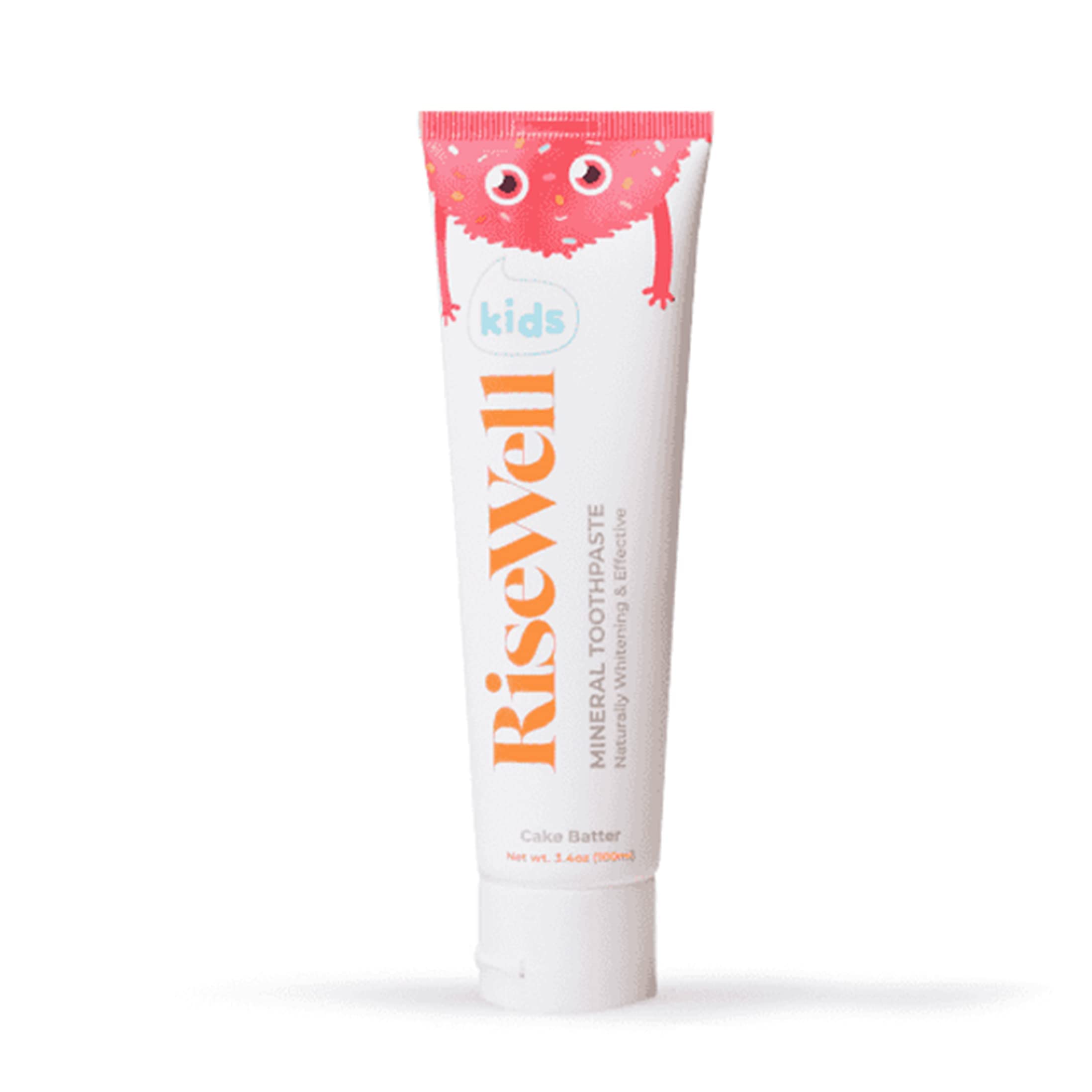 If you want a fluoride alternative, Risewell is a kids toothpaste that features Nanohydroxyapatite instead.  It is in a Cake Batter flavor and can be found on Amazon.
OraNurse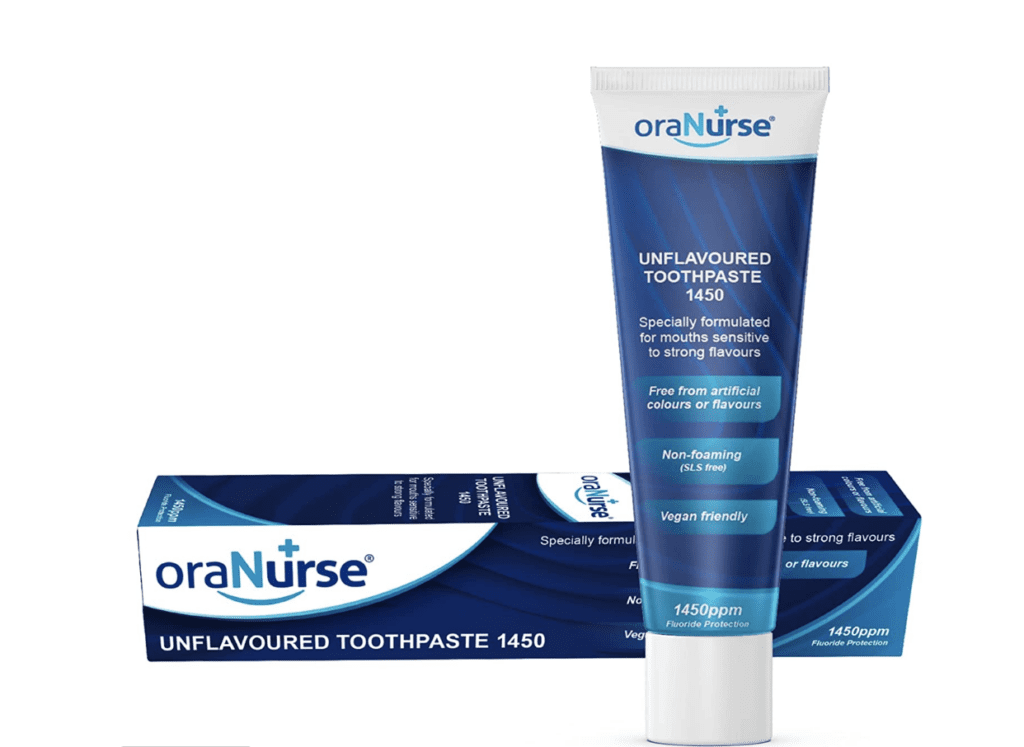 There are some kids who do not like fruity or minty flavors.  Oranurse is a great unflavored toothpaste option that most kids and adults can tolerate.  It can be found for both adults and kids on Amazon.
Orajel Anticavity Toothpaste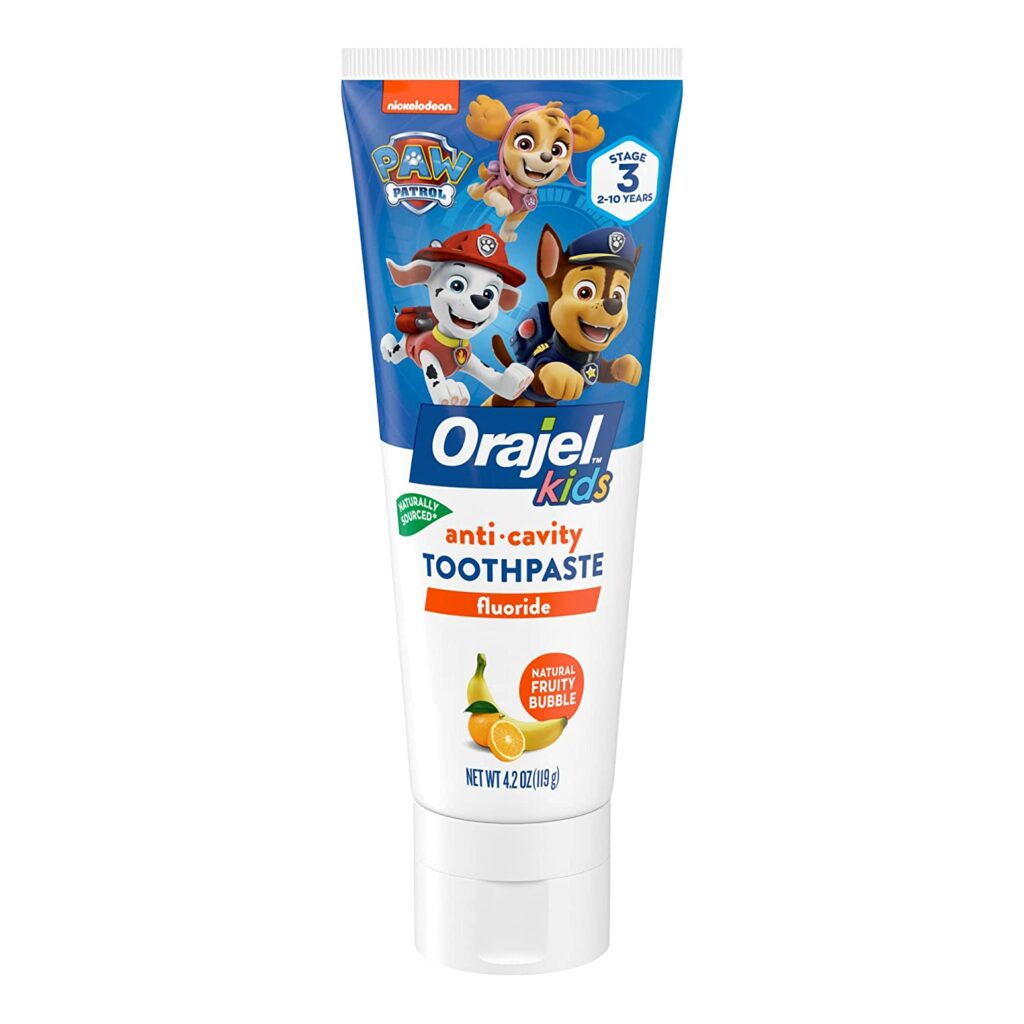 This toothpaste has a good flavor that kids enjoy. The anti-cavity fluoride helps to remove plaque and prevent decay. You can find it on Amazon.
The Natural Dentist Cavity Zapper for Kids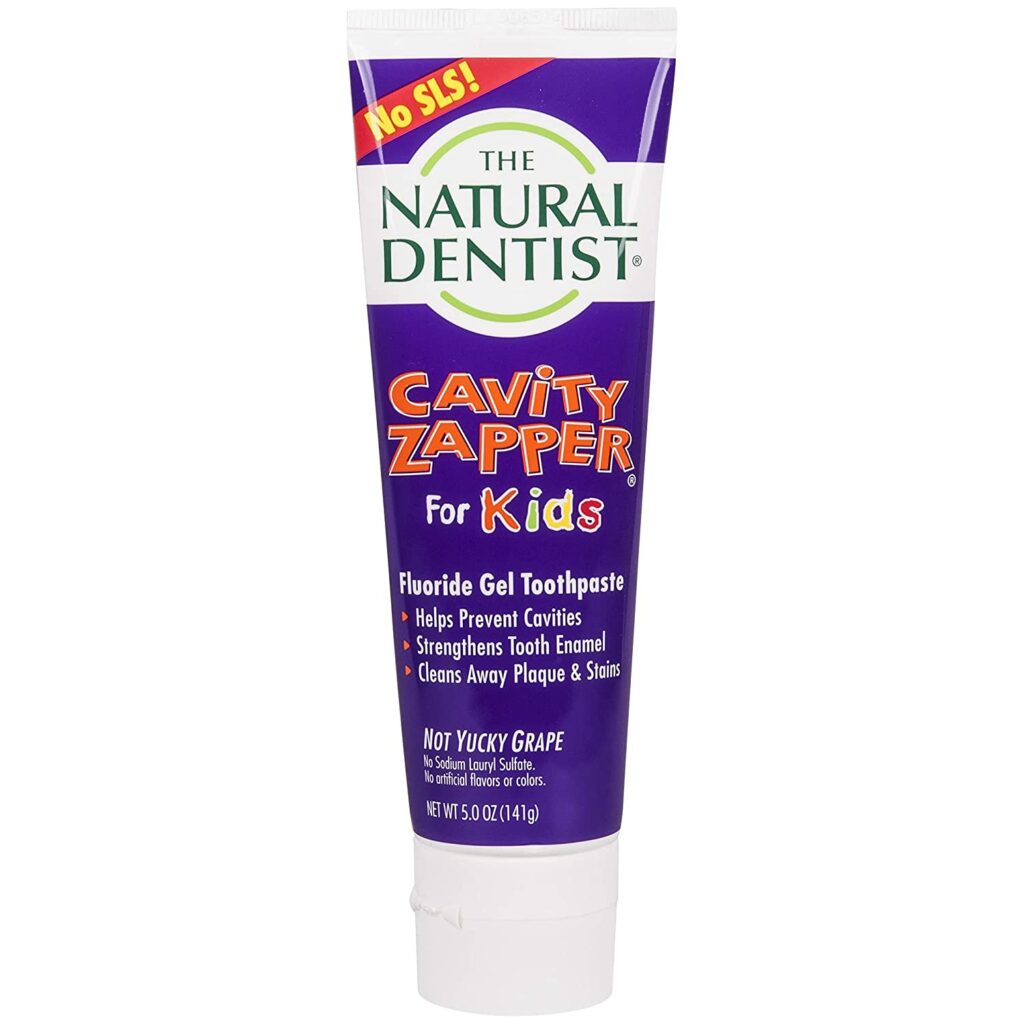 This cavity-fighting toothpaste is made with natural ingredients and contains xylitol to fight plaque and bacteria. One thing that sets this toothpaste apart is the fact that it is SLS-free. You can find it on Amazon.
Kiss My Face Kids Fluoride Free Smart Gel Toothpaste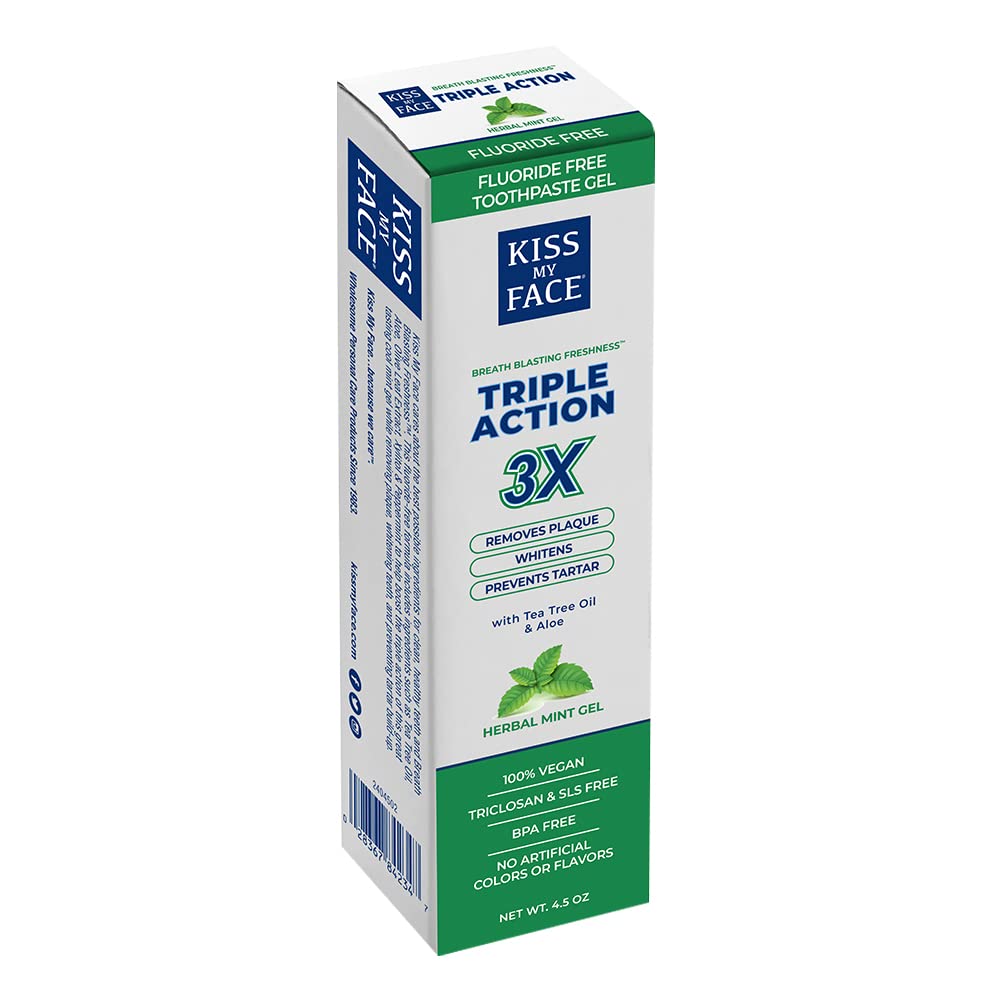 This toothpaste is cruelty-free, vegan, and free of artificial flavors, colors, and sweeteners. It contains aloe vera, tea tree oil, and other fantastic ingredients that clean teeth and gums, while also gently removing stains. You can find it on Amazon.
Weleda Children's Tooth Gel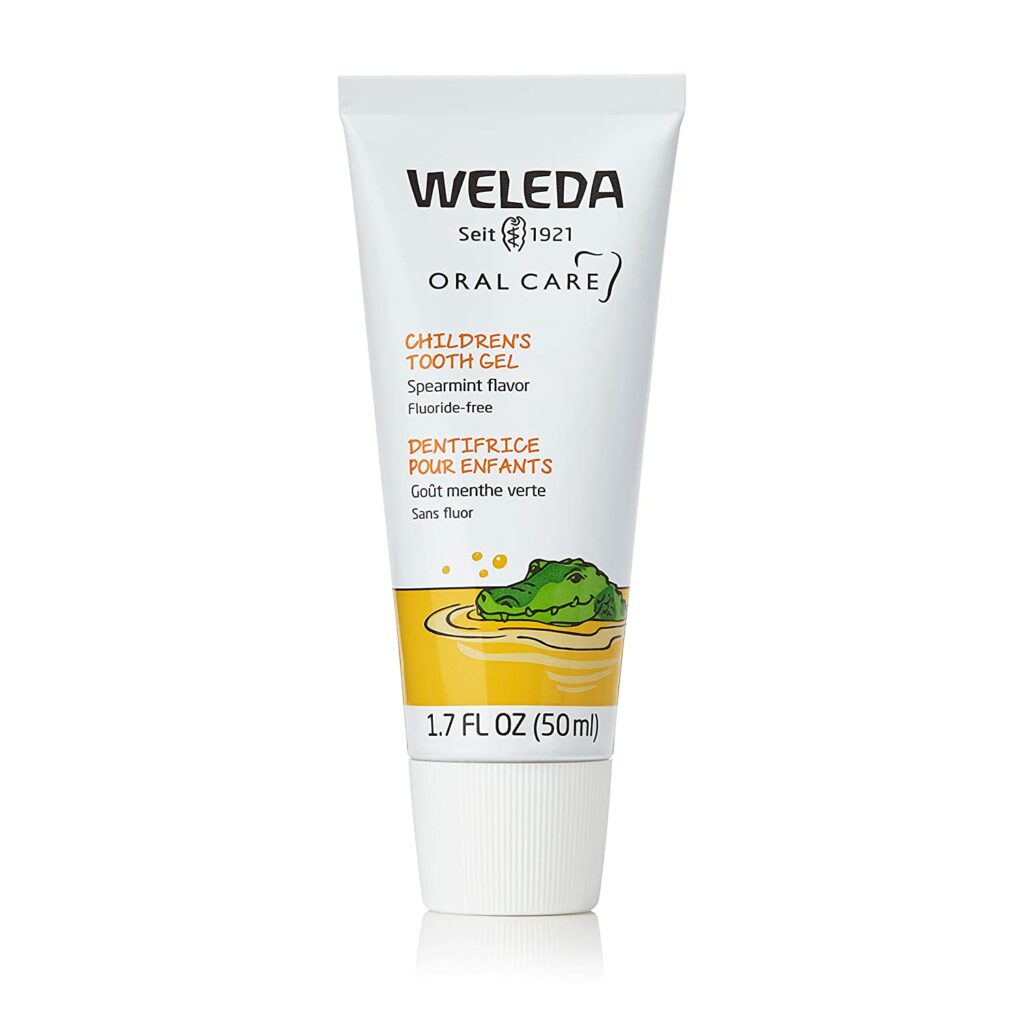 This toothpaste is gentle, natural, and free of sugar, artificial sweeteners, and synthetic preservatives. It has a mild mint flavor and contains calendula, which helps to keep sensitive gums clean. You can find it on Amazon.
Keeping Your Child's Teeth Clean
It's extremely important to keep your child's teeth clean. Even though their primary teeth will fall out, you still don't want them to develop cavities. Once their adult teeth come in, cavities and infections can become even more serious (as these teeth are permanent).
Gum disease in children is also very problematic and can lead to bleeding, bad breath, difficulty chewing, and much worse. Your child may develop an infection and damage the periodontal ligament and the alveolar bone that support the teeth.
It's important to ensure your child brushes and flosses to protect their gums. You also want to take your children to the dentist regularly for cleanings and checkups. Don't skip appointments!
Getting Your Kids to Brush Their Teeth
Getting your children to brush their teeth can be a pain, but it's necessary. So, how do you get your kids to brush their teeth if they don't want to?
One tip is to purchase high-quality flavored toothpaste (like the ones listed above). This will make the experience more enjoyable and will increase the likelihood of them properly brushing.  Giving a variety of options and letting your child "choose" their flavor for the day is also a great motivator!
Another thing you can do is brush with them. By setting an example and being a positive role model, they will be more likely to follow your lead. You can also make it a fun experience for them.
With the right toothpaste and positive reinforcement, you'll find your child grows to enjoy (or at least tolerate) brushing their teeth!
Smile Smarter,
Dr. Joyce