*This is a sponsored post by Waterlase. All opinions expressed in this post are based on my personal view.
As a cosmetic dentist, one of the key features that made me interested in the Waterlase Technology was it's FDA clearance to remove Veneers and Crowns without having to drill them off. Since I do a large bulk of Veneer revisions in my private practice for patients who were not previously satisfied with their Veneers or are at a point where they are looking to replace them, this addresses a huge painpoint for me. Truthfully I don't know a single dentist who enjoys drilling off old porcelain. Even when using the appropriate burs, I find that cutting through porcelain, and especially Zirconia, is unpleasant for patients and harsh on the bearings of my electric handpieces.
How Fast Does The Waterlase Remove Veneers?
Of course, one thing that held me back from fully investigating the Waterlase was assuming that using a laser would double my chair time. It wasn't until I read a clinical study by Walinksi and Gibson in the January 2021 issue of Operative Dentistry, when I realized that removing a preexisting crown or veneer with a laser could be even faster than the traditional method of drilling them off. In this study, they found that the average duration of exposure to completely remove a veneer was 14.16 seconds for a veneer of average thickness of 0.75mm in the midfacial. Feel free to read the entire study here:
Debonding of Leucite-reinforced Glass-ceramic Veneers Using Er, Cr:YSGG Laser Device: Optimizing Speed with Thermal Safety
CJ Walinski;JE Gibson;DS Colvert;DC Redmond;JH Jafarian;PN Gregory;KL Ou
Oper Dent(2021) 46 (1): 100–106.
Link: https://meridian.allenpress.com/operative-dentistry/article-abstract/46/1/100/464235/Debonding-of-Leucite-reinforced-Glass-ceramic?redirectedFrom=PDF
A few things I learned from this study was that the amount of time it would take for the laser to remove a veneer or crown depended on the material thickness. Thicker crowns and veneers would require more time while thinner materials could use lower settings. The Waterlase allows you to remove veneers in under a minute, crowns in under 5 minutes*, and eliminate excess heat and vibration compared to traditional hand pieces. *For all porcelain and ceramic crowns and veneers
Positive Patient Interactions
One of the biggest fears patients have during their veneer revision procedures is that more and more of their natural tooth structure will need to be removed while removing the old restoration. This is a concern I can completely understand, especially for those patients who had their prior set of veneers done over 10 years ago with more of a traditional style prep instead of a modern minimally invasive prep. The Waterlase addresses this pain point, allowing removal of existing veneers and crowns without any additional removal of tooth structure. The way the Waterlase works is that the laser targets the cement layer between the tooth and the veneer. Here is the list of cements the Waterlase has been confirmed to work on are:
Resin
Resin Modified Glass Ionomer
Glass Ionomer
This can be incredibly reassuring for patients who are more educated these days as to the pros of minimally invasive dentistry. From the Doctor side, I believe this could also alleviate veneer cementation stresses. There are times when a Veneer is not cemented in the proper location, resulting in open margins and staining. Traditionally there is no "do over" if a veneer is cemented in the wrong place. The entire veneer needs to be removed and redone, creating more patient visits, drilling, and lab fees.
That being said, the ability to remove a veneer without having to destroy the entire veneer is my favorite feature of the Waterlase.
Improved Lab Communication
Being able to remove a single veneer in one piece provides a Doctor insurance during cementation, but also fosters improved laboratory communication. Color matching a single veneer to an older set can be a challenge, especially if the veneer was done by an unknown former Doctor and lab. By removing the veneer and sending it to the ceramist with the case, the ceramist is able to garner so much more information and get a closer match.
I'll never forget a 4 unit veneer case that I did, where a patient insisted on getting the brightest shade against my advice. Even upon cementation, the patient was happy with the shade. It was a few months later that the patient returned, wanting to remove them and go down to a more natural shade. Had I had a Waterlase at the time, I could have debonded his veneers and sent them back to the laboratory for a shade adjustment. However, I had to remove his veneers by drilling them off, destroying them in the process, and incurring a double lab fee which was passed forward to the patient. Remember that many laboratories require the restorations to be returned in order to receive credit. The Waterlase is a great way to make sure the patient is 100% happy with their veneers, even after full cementation.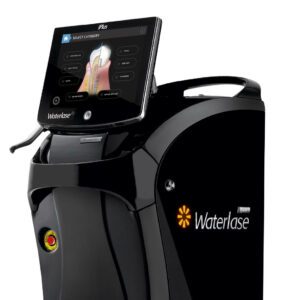 Waterlase Limitations
There are a few limitations that the Waterlase has. First, it is dangerous to use on mental products, such as full metal crowns, PFM crowns, or metal oxide cements. The materials the Waterlase has been tested and confirmed on are:
all-zirconia / full zirconia
layered zirconia (i.e. porcelain fused zirconia
lithium disilicate
leucite glass
My practice has been metal free for a decade, so these are the materials I usually stick to anyway. For me, removing a PFM is quick, however, removing a full Zirconia crown or a bonded E.max crown is still very labor intensive.
Another limitation is that thinner veneers can be more prone to fracture while removing the veneer. Even a pinhead sized amount of cement missed by the laser could hold the veneer or crown on. So just be aware of that.
Find Out More
The Waterlase technology offers a solution that cannot be found with many other dental lasers. Click this link to learn more about the options and which device would be most suitable for you and your practice!
LINK: https://bit.ly/BiolaseDrKahng
Sign up here to try the Waterlase in office: https://bit.ly/WETP23ka
Smile Smarter,
Dr. Joyce