If you're in the market for an electric toothbrush, you may have come across the Quip toothbrush. Quip is a newer brand on the scene, but they've been making waves with their sleek design and affordable prices. But how well do Quip toothbrushes actually work?
In this Quip toothbrush review, we'll take a look at the features of the Quip brush, how well it cleans teeth and gums, and whether or not it's worth the money.
What is Quip?
Quip is an electric toothbrush that has gained popularity in recent years for its affordable price and minimalist design. Many people wonder if Quip is worth the money, and the answer is that it depends on your needs and preferences. If you are looking for an affordable and basic electric toothbrush, then Quip is a good option (especially if you prefer low-profile designs or travel a lot.)
However, if you are looking for a more advanced toothbrush with more features, then you may want to look at some of the higher-end electric brush designs. That being said, Quip is a decent option that's worth the money for anyone looking for a basic electric toothbrush.
Quip comes in two different sizes: adult and child. If you have a small mouth, go ahead and opt for a child-sized version. It works exactly the same, but the more compact size makes it more effective at cleaning around narrower smiles.
How Quip Subscriptions Work
Just like traditional toothbrushes, your electric brush heads need to be changed out routinely. The Quip toothbrush system is a subscription-based service that mails you a new, replacement toothbrush head and battery every three months. That means no charging, remembering to change things out or order them on your own, and the convenience that comes along with it.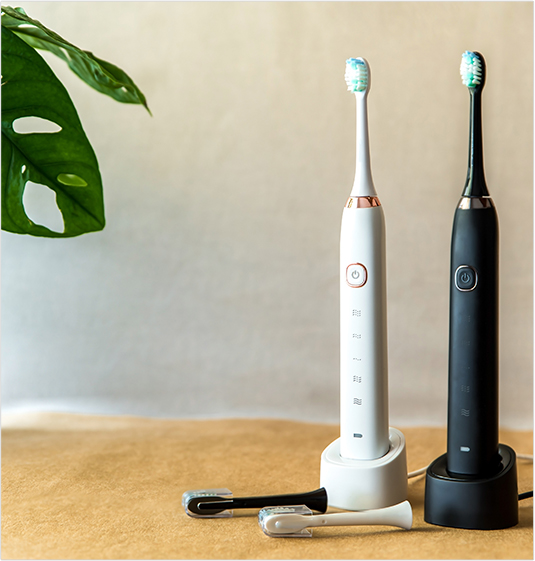 How Well Does Quip Clean Your Teeth?
Quip vibrates about 15,000 times per second. For comparison, some higher end brushes vibrate up to 30,000-60,000 per second. But when you compare any vibrating toothbrush to a manual brush, the vibrations provide better plaque removal and biofilm disruption for a healthier, whiter smile.
Because Quip is slightly less aggressive in the vibration department, you might find that it's easier to use if you have sensitive teeth and gums or tend to be more impacted by the "feel" of an electric toothbrush.
All of that being said, an electric toothbrush needs to be held a certain way in order for it to do its job correctly. Take your time, positioning the Quip toothbrush so that it's angled toward your gums, then hold it on that tooth for several seconds. Then move it to the next tooth. Focus on one or two teeth at a time, allowing the brush to do all of the work for you. Scrubbing back and forth with an electric toothbrush prevents the bristles from doing their job correctly.
How Much Does Quip Cost And Is It The Money?
If you're considering buying a Quip toothbrush, the modest price is much, much lower to a lot of other top-of-the-line toothbrushes out there on the market. Quip toothbrushes start at around $25 for a subscription, with some higher-end models costing a bit more. The modest price-point isn't too bad considering some other electric toothbrushes on the market can cost upwards of $100.
The "smart" Quip toothbrush is only $45 and pairs with your smartphone, for brush tracking and better long-term oral health. It's a popular pick for parents who are trying to encourage their kids and teens to be better about brushing their teeth independently.
Since Quip subscriptions for a new brush head and battery are only about $5 each, the cost of Quip is almost better than buying a manual toothbrush just as frequently. Especially if you're changing out your brushes every 3-4 months!
Keep in mind that the Quip starter kit is only $25 or $45 (smart versions) but the refills are the only thing you're paying for each quarter, and those are only about $5. Comparatively speaking, Quip is one of the most affordable electric brushes on the market today.
Other Quip Products
Toothbrushes aren't the only thing that Quip offers. There are also single-use flossers, floss refills, mouthwash, and more. They even offer xylitol-sweetened gum, which is unique because xylitol is specifically known for limiting plaque buildup on teeth. There's even a water flosser to help you clean between your teeth, where a toothbrush doesn't reach (which is perfect if you hate using conventional string floss!)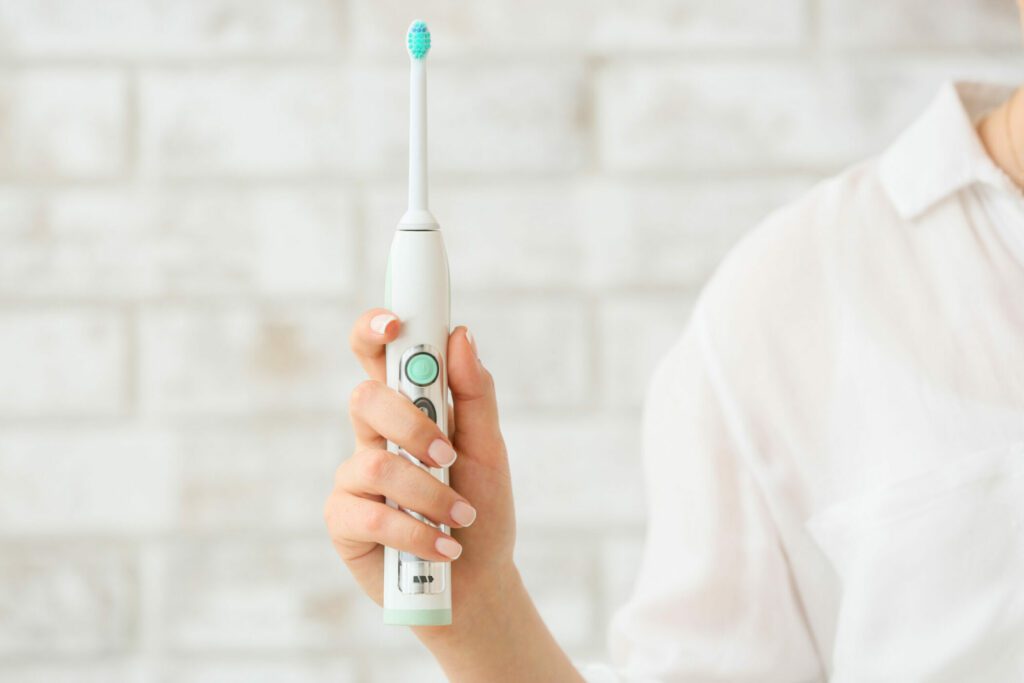 Why Using an Electric Toothbrush is Important
Electric toothbrushes have many advantages over manual toothbrushes. They are more effective at removing plaque and bacteria, and they can help to prevent gum disease, decay, and tooth loss. Electric toothbrushes are also easier to use for anyone with limited dexterity, and they are less likely to cause toothbrush abrasion when used as directed.
I recommend electric toothbrushes to all of my patients, especially if they have a history of recurring gingivitis or periodontal disease. The extra strokes made with an electric toothbrush provide added stimulation, oxygenation, and cleansing power in areas of our mouths where bacteria thrive. This makes it possible to reverse gum infections and better control chronic conditions compared to using a manual brush, which only provides several dozen strokes at best (depending on your manual brushing technique.)
The modest price investment you make in a Quip toothbrush could—hypothetically—help save you hundreds of dollars in dental care but most importantly, the future of your smile's health.
When In Doubt, Ask Your Dentist
Quip toothbrushes are just one of several quality electric toothbrush designs on the market. Given the low profile and sleek handle, convenient subscription process, and modest affordability, you really can't go wrong with upgrading your manual toothbrush to a Quip. That being said, your dentist or dental hygienist are great resources when it comes to comparing various types of toothbrush designs; feel free to ask them about their input during your next dental checkup!
Smile Smarter,
Dr. Joyce