When you book an appointment with a dentist, you generally expect to see a person that is at least middle-aged. With that said, are there younger dentists? And if so, how old exactly is the youngest dentist?
Below is more about how old the youngest dentist is, along with how old you need to be in order to practice dentistry and even how you can get started with becoming a dentist!
How Old is the Youngest Dentist? What is the Average Age of Someone Starting Dentistry?
Currently, the youngest dentist to graduate dental school and get his license is Dr. Phil Chahine. He graduated in 2001 with his doctorate from the University of Montreal at the age of 22 years old! He's since gone on to become one of the most-regarded dentists in the field.
The age to practice dentistry in the United States is determined on a state-to-state basis, but generally, the limit is 21 years of age. With that said, there's a very low likelihood that you'll be able to graduate (let alone get a license) by that age. While there isn't an exact age you can expect to begin practicing, it's important to note that most dentists don't begin practicing in their field until their mid-to-late 30s. The average age of a dentist is in the mid-40s.
How Do I Become a Dentist?
If you are interested in becoming a dentist, keep in mind that it takes a long time, and you shouldn't expect to become a dentist overnight. There are quite a few steps you'll need to get through before you start practicing dentistry.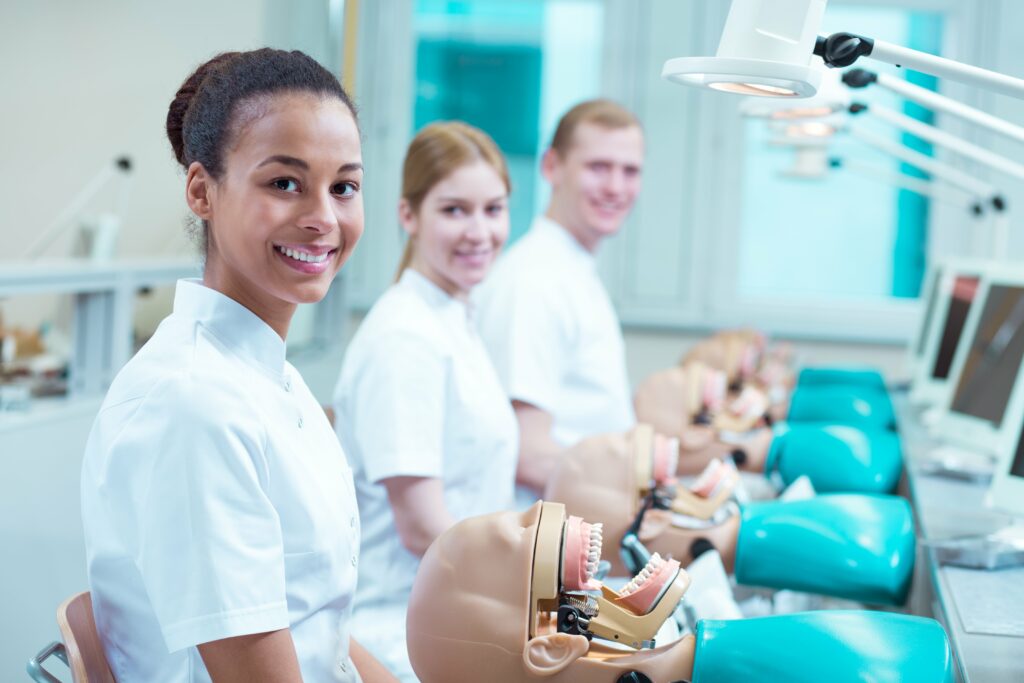 Below are some of the steps you'll need to go through if you want to become a dentist:
Get a Bachelor's Degree
The first step of becoming a dentist is graduating college with a bachelor's degree. Your degree can be in just about any field, but it's generally best to specialize in a science-based field like chemistry or biology. You'll generally need to take those courses to start dental school anyway, so you may as well get them out of the way. With that said, you can major in math, English, or just about anything else and still get accepted into dental school.
Take the Dental Admission Test
The DAT (Dental Admission Test) needs to be taken before you can even enroll in dental school. This standardized test consists of multiple-choice questions regarding topics that include:
· Quantitative Reasoning
· Reading Comprehension
· Perceptual Ability
· Survey of Natural Sciences
This helps to test your scientific knowledge, critical thinking skills, academic ability, and other factors that are required for the field of dentistry.
Go to Dental School
So, you have your bachelor's degree and you've passed the DAT. Now what? Dental school, of course!
After you've been accepted into dental school, you'll attend classes that will teach you everything you need to know to become a practicing dentist. Expect to take courses in anatomy, dental materials, biochemistry, physiology, and pharmacology while you are in dental school. Dental school is generally four years long and you'll receive a Doctor of Dental Medicine (DMD) or Doctor of Dental Surgery (DDS) degree once you graduate.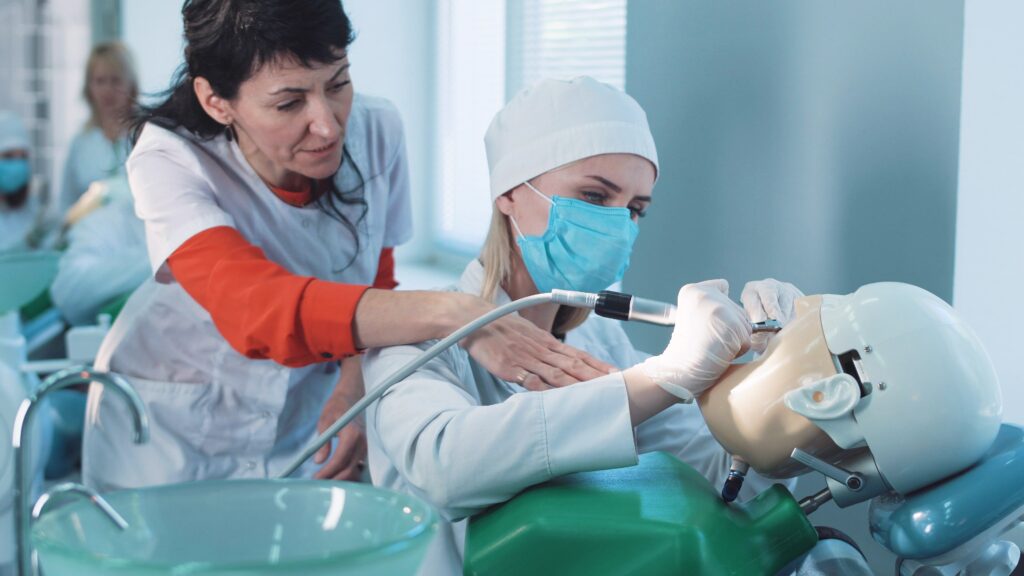 Throughout your time attending dental school, you'll also receive hands-on training in patient care and clinical procedures. The goal is for you to graduate knowing everything you need to know to get your license and start practicing.
Get Your License to Practice
Before you can actually practice dentistry, you need to get your license from the state you are planning to practice in. Prepare for a clinical and written exam, where the licensing board will test your knowledge and skills before licensing you. If you paid attention in school, this shouldn't be difficult at all!
Complete a Residency
A residency is an extremely important part of becoming a dentist. Your residency may take around two years but, if you are entering a specialized field, it can take even more time. During your residency, you'll learn more about the procedures you will be performing and get lots of hands-on experience (supervised by an experienced dentist). After this process is complete, you can move on to practicing on your own.
Decide if You Want to Join or Build a Practice
So, you've attended dental school, graduated, gotten your license…you are officially a dentist! Excellent! Now what?
At this point, you'll need to consider your career trajectory. You don't have to figure everything out all at once, but you at least need to know where you are starting. This means one of two paths—you can either join a practice or build your own.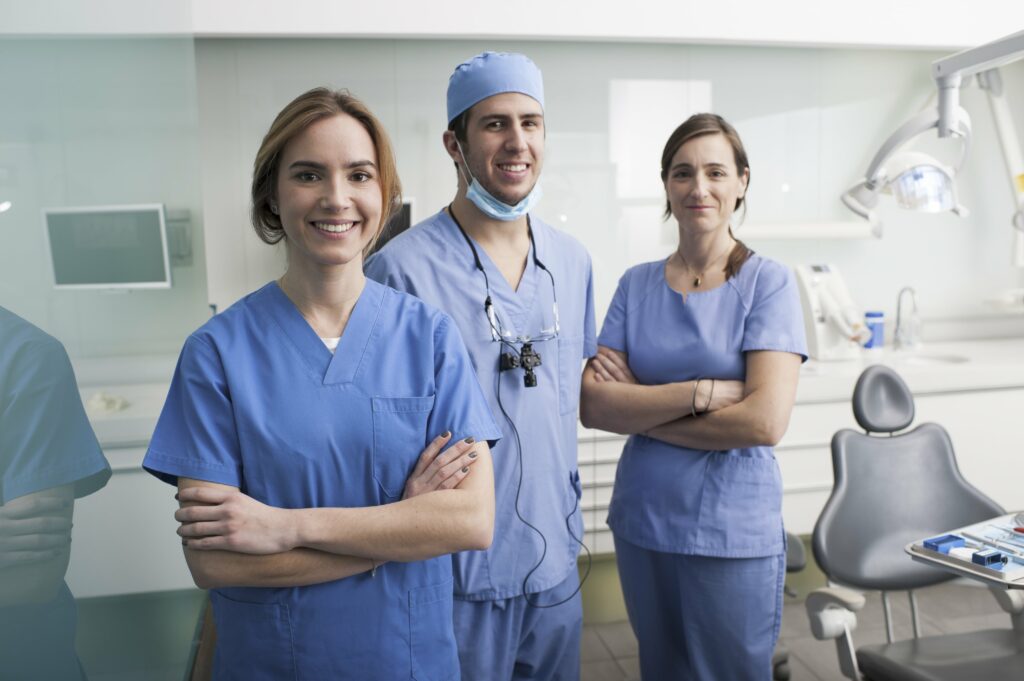 Most dentists opt to start off by joining a practice. This is a good idea for most new dentists, as it provides you with the opportunity to get started in an established environment (that is generally home to other, more experienced dentists). With that said, if you feel comfortable enough to jump in on your own and start your own practice, you have the option to do so.
One major consideration when joining or starting is the risk. You need to understand that there is no safety net when you start a practice. You will sink or swim on your own—which means all of the debt and other issues will fall on your shoulders.
It's strongly recommended that you join a practice with a strong reputation and use this opportunity to learn and grow.
Get Started Today!
You now know what to expect if you choose to become a dentist, along with the average age of dentists and when your dental career may begin. If you are interested in becoming a dentist, check out different dental schools and reach out to their admissions to see if dentistry is the right career for you.
Young or old, it's never too late to get started becoming a dentist!
Smile Smarter,
Dr. Joyce