Are you considering a fun and rewarding career in the field of dentistry? If so, you are likely wondering what the process of becoming a dentist is and how long it will be until you can become a licensed dentist.
Learn more about becoming a dentist, dental school, and how long it takes to become a dentist below…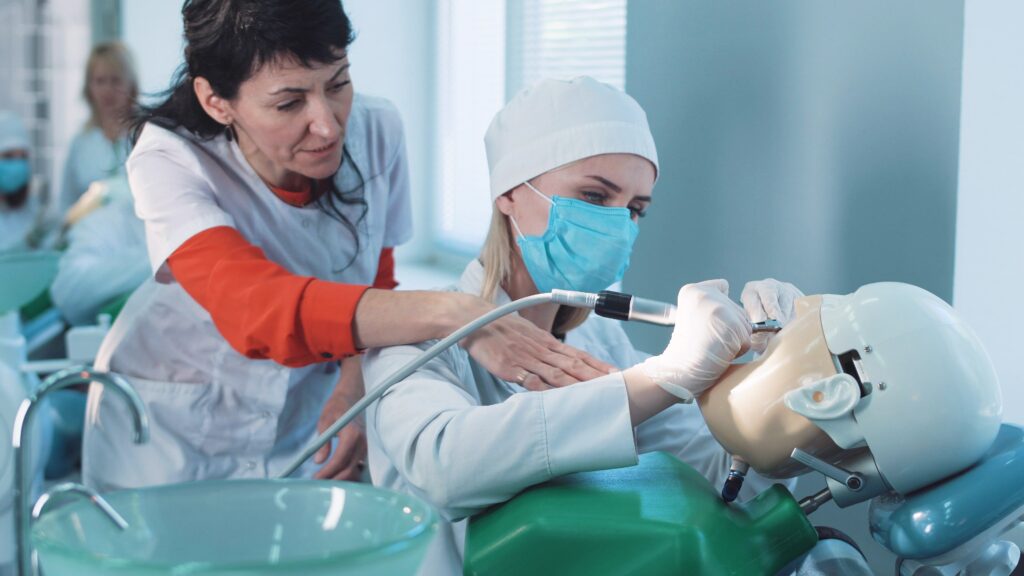 How Long is Dental School?
While the length of dental school is an important consideration, it's not the only one. If you are considering how long it will take to actually become a dentist, there are a lot of factors you'll need to consider.
Below are the steps you'll need to take to become a dentist and how long dental school is. This will help you to better determine if becoming a dentist is the right path for you…
Get Your Bachelor's Degree
The first step to becoming a dentist is getting your bachelor's degree. This, in itself, is going to take around four years. There isn't a specific field you absolutely have to specialize in to become a dentist, but there are some that will make the process easier. Majoring in subjects like chemistry, physics, biology, or other similar fields will help to ensure you get the prerequisite courses required to attend dental school. With that said, different schools have different prerequisites. Check out the school you are considering for more information about the courses you need to take or reach out to their admissions.
Consider extracurriculars as well to set yourself apart and show you are well-rounded. This may include joining clubs, becoming involved in the community, and/or volunteering.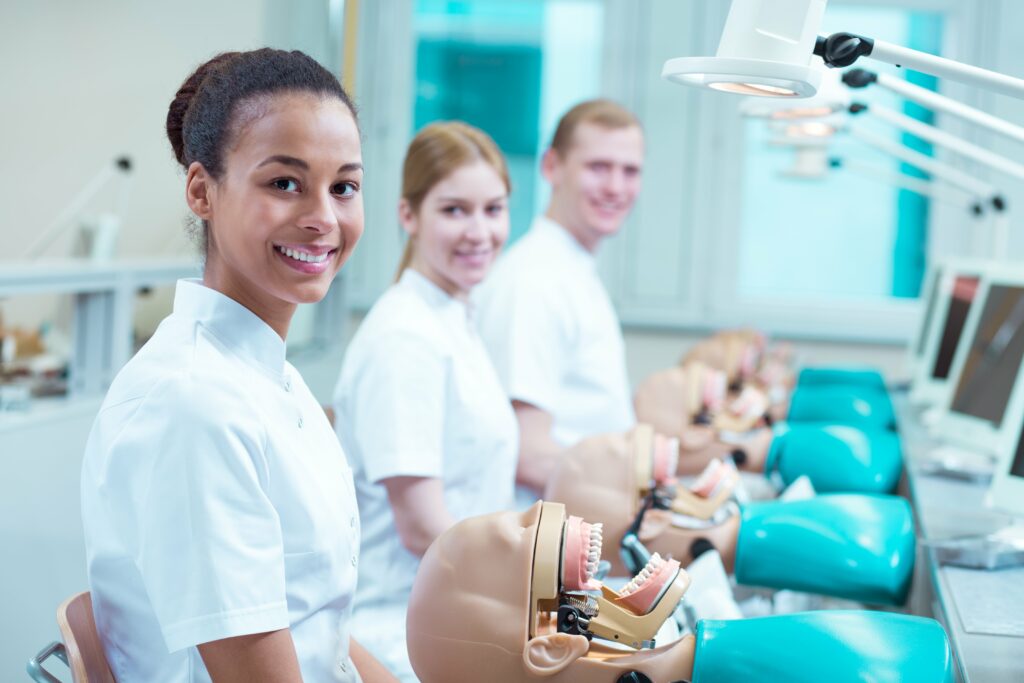 Take the Dental Admission Test
In order to enroll in dental school, you first need to take the DAT (Dental Admission Test). This standardized test consists of multiple-choice questions on topics that include:
Quantitative Reasoning
Reading Comprehension
Perceptual Ability
Survey of Natural Sciences
This helps with testing your scientific knowledge, academic ability, critical thinking skills, and more.
It's best to try and ace the test the first time you take it but you may not. Because of this, experts often recommend taking the DAT in the spring or summer of junior year in order to allow for time to retake the test (if needed). Many students opt to retake the test for a higher score.
The DAT is administered by the American Dental Association (ADA), and students can register for the exam on the ADA's website.
Go to Dental School
Once you've completed your bachelor's degree and you've taken (and passed) your DAT, it's time to apply to dental school. Once you've graduated dental school, you'll receive either a Doctor of Dental Surgery (DDS) or Doctor of Dental Medicine (DMD) degree. During your time at dental school, you'll attend courses in topics that include anatomy, biochemistry, dental materials, physiology, and pharmacology. You'll also get hands-on training while you are in school.
As of today, there are 66 accredited dental schools in the USA. You'll want to research the specific programs and admissions requirements of the schools you are considering before applying to them. You can use the ADEA Official Guide to Dental Schools or resources provided by the American Dental Education Association (ADEA) to find the right school in your area.
Not all dental schools are exactly the same. They often vary in terms of curriculum, clinical experiences, and program structure. Consider speaking with faculty members and even current students to learn more about the program for the school (or schools) you are considering.
The 4-Year Process of Dental School
Generally, once you've been accepted to a dental school, you'll begin a program that lasts four years. The first couple of years are dedicated to classroom learning, where you'll take courses in subjects like biochemistry, histology, anatomy, physiology, pathology, and pharmacology. During these courses, you'll learn about the fundamental principles of dentistry, while also learning about the structure and function of the body.
For the last couple of years of dental school, you should expect more clinical training and hands-on experience with treating patients. During this time, you'll work closely with experienced dentists and faculty members to provide a wide range of services, including fillings, root canals, crowns, and extractions.
Students must complete a number of hours during their clinical training. How many depend on their specialties. These specialties may include orthodontics, periodontics, endodontics, and oral surgery. As a student, you'll also have the opportunity to work with adults, children, and elderly patients.
The process is rigorous, as you are training in a complex field. With that said, you'll graduate with plenty of experience and a strong knowledge in the field of dentistry. From there, you can enter the field of dentistry!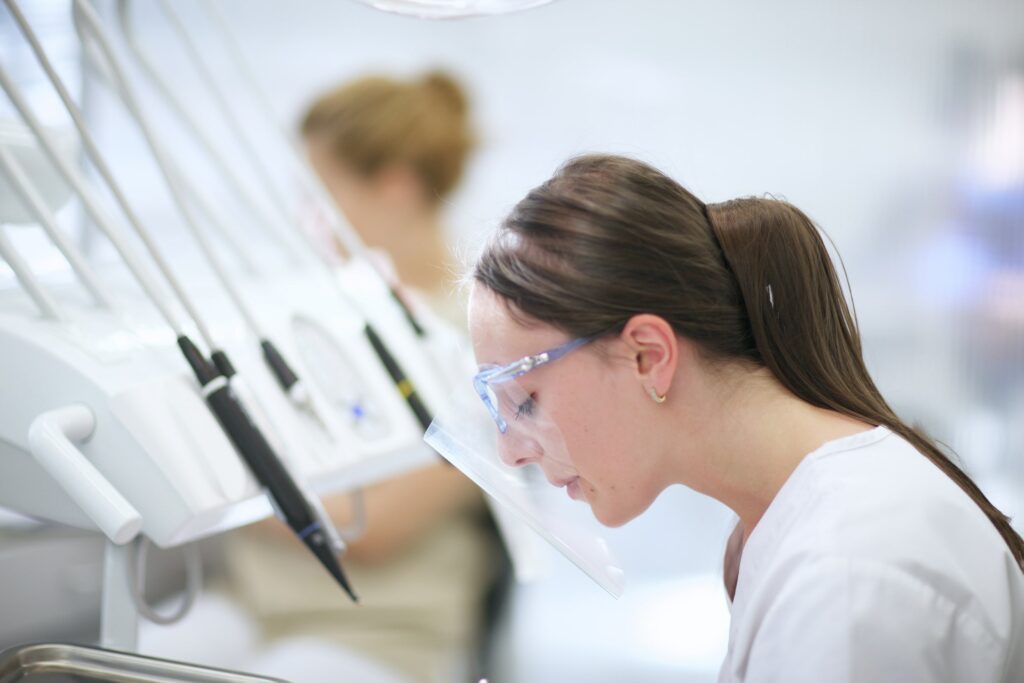 Get Your License to Practice
After you've graduated, you'll need to get licensed in your state. After dental school, this should be a breeze. Getting your license will consist of a clinical exam to test your abilities and a written exam.
Complete a Residency
Once you've gotten your license, it's time to start a residency. These residencies will allow you to get real-world experience and become more comfortable working in a professional setting. Generally, residencies last about two years, but they can be longer for certain fields. After your residency is completed, you'll be ready to join a practice or even start your own.
Build Your Practice or Join an Existing One
Once you've got experience under your belt, you can start applying for positions at different offices. This is generally the easier path. With that said, you can start your own practice.
Get Started
The sooner you get started, the sooner you'll graduate and be able to practice dentistry! You know the basic steps. Start researching schools and apply. Before you know it, you'll be a dentist working in an office or even starting your own practice!
Smile Smarter,
Dr. Joyce