As dental professionals, our commitment to providing comprehensive and effective care requires a well-orchestrated team effort. Central to this endeavor are two indispensable roles within most dental practices: Registered Dental Hygienists and Dental Assistants. These dedicated professionals, while distinct in their responsibilities, collaborate harmoniously to ensure seamless patient care and contribute to the overall success of our practices. Understanding the unique roles and responsibilities of dental hygienists and dental assistants can help when you're considering choosing between one of these two career paths.
What is a Dental Hygienist?
Registered dental hygienists (RDH) are skilled practitioners who specialize in preventive oral care and the treatment of periodontal disease. Their expertise lies in promoting oral-systemic health, preventing dental diseases, administering local anesthesia, performing screenings, and fostering patient education. Dental hygienists are most known for performing professional preventative dental cleanings and deep cleanings, meticulously removing plaque, calculus, and stains from teeth. This proactive approach aids in preventing the progression of periodontal disease and promotes a foundation of sound oral hygiene.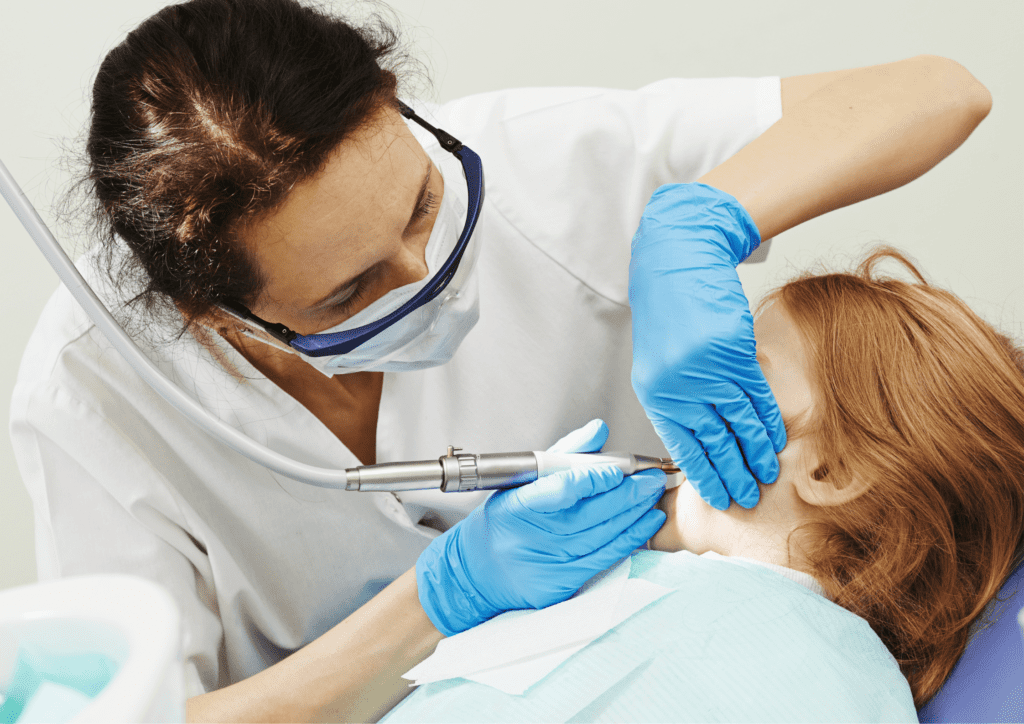 Dental hygienists are also trained to perform various diagnostic procedures, such as taking X-rays and conducting comprehensive oral health assessments. These screenings allow them to identify potential concerns, such as dental and soft tissue diseases, to collaborate with dentists in crafting tailored treatment plans for their patients. The educational facet of their role is equally significant, as they empower patients to understand and adopt effective oral hygiene practices, make informed dietary choices, and appreciate the significance of regular dental visits.
What is a Dental Assistant?
Dental assistants are versatile professionals who provide essential support in both clinical and administrative aspects of dental practice. Operating as the dentist's right hand, dental assistants ensure the smooth flow of procedures by preparing treatment areas, assisting in the dentist's instrumentation needs, and offering chairside assistance during procedures. Their adeptness extends to infection control measures, including sterilizing instruments and maintaining a sanitary environment to safeguard patient and staff health.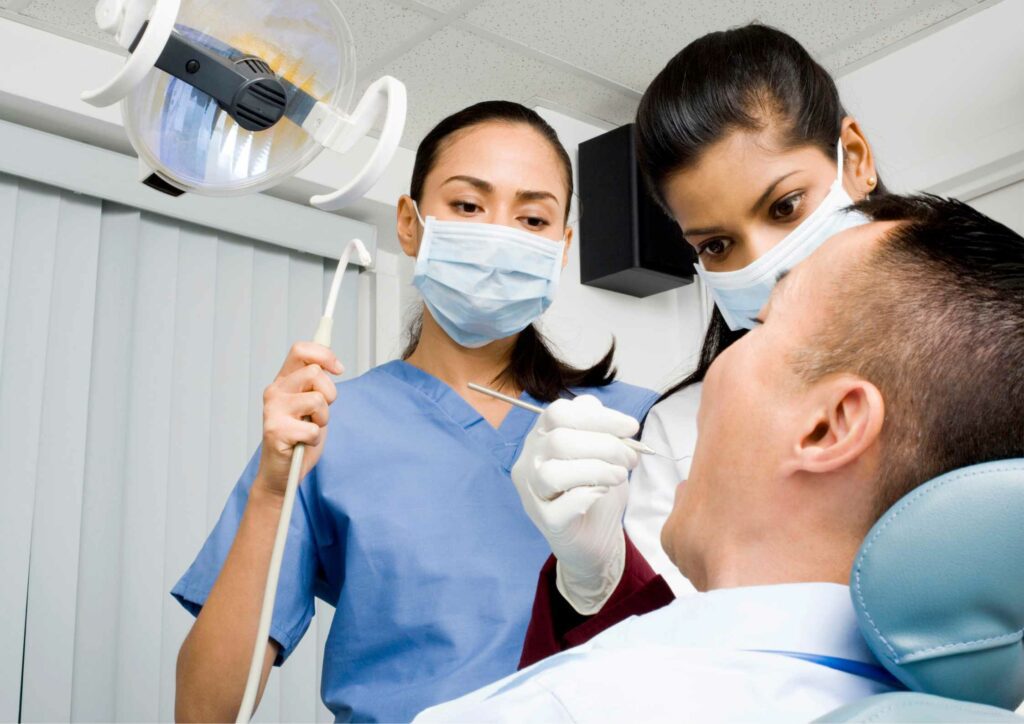 In addition to their clinical responsibilities, dental assistants often undertake administrative tasks such as managing patient records, scheduling appointments, and handling lab cases. This multifaceted role also encompasses taking impressions, fabricating temporary crowns, and collaborating with the laboratory to ensure accurate outcomes.
How Dental Hygienists and Dental Assistants Work Together
The interaction between dental hygienists and dental assistants embodies a synergistic approach to patient care. This harmonious collaboration yields numerous benefits, enriching patient experiences and elevating the quality of care provided.
1. Comprehensive Assessment and Diagnostics
Dental hygienists conduct thorough assessments of the patient's oral health, evaluate gum health, identify the signs of periodontal diseases, and perform oral cancer screenings for the dentist's formal diagnosis. These assessments provide crucial insights for the dentist to develop well-informed treatment plans. Dental assistants play an instrumental role in this process by aiding in charting, documentation, and preparation of diagnostic materials.
2. Chairside Efficiency and Support
During dental procedures, dental assistants play a pivotal role in ensuring the dentist's efficiency by providing extra support and instrument accessibility. They prepare patients, handle instruments, manage suction, and maintain an unobstructed view of the treatment area. This assistance enables dentists to focus on the task at hand, ultimately enhancing the precision and effectiveness of treatments. Whereas dental hygienists typically work independently in their own separate operatories under the indirect supervision of the dentist.
3. Patient Education and Follow-up
Dental hygienists focus on patient education, sharing valuable knowledge related to preventative oral hygiene practices, dietary habits, dental needs, and oral-systemic health issues. Dental assistants extend this education by reinforcing key points, scheduling follow-up appointments, and addressing patient queries related to specific treatment needs and procedures.
4. Infection Control and Sterilization
Infection control is a paramount concern in any healthcare setting, and both hygienists and dental assistants play a crucial role in maintaining strict sterilization and disinfection protocols. standards. Each team member ensures that instruments are properly sterilized and that infection control protocols are followed. Cross-contamination safeguards protect patients and practitioners alike.
5. Collaborative Treatment Planning
Dental hygienists and dental assistants collaborate with dentists in formulating comprehensive treatment plans. Dental hygienists update dentists during their patients' examination regarding oral health findings, reporting patient symptoms and clinical observations, and providing digital imaging for informed care practices. Dental assistants contribute by gathering patient history and taking dental X-rays, enhancing the overall assessment process.
Is It Better to Study to be a Dental Hygienist or a Dental Assistant?
The decision to pursue a career as a dental hygienist or a dental assistant hinges on individual preferences, career goals, and your desired areas of interest. Both roles are indispensable, yet they cater to different aspects of dental care practices and day-to-day responsibilities.
Dental Hygienist
Requires an associate or bachelor's degree, similar to becoming an RN
Focus on preventive care, patient education, and diagnostic procedures.
State and national board exams are required, including written and clinical exams.
Often works with patients directly, focusing on oral health improvement and disease prevention.
Offers opportunities for autonomy and one-on-one patient interaction.
Annual professional development is needed to maintain state licensure.
Dental Assistant
Requires a shorter educational path, often involving a diploma or certificate program. On-the-job training may be possible in some regions.
Provides versatile support in clinical procedures, infection control, and administrative tasks.
Works closely with dentists, enhancing chairside efficiency and patient comfort.
Offers a dynamic role with opportunities to engage in a variety of tasks.
Options for working in specialized clinics, such as oral surgery or orthodontics.
Ultimately, the choice between becoming a dental hygienist or a dental assistant depends on your personal interests and career ambitions. Some people even choose to go directly into dental assisting because of the shorter training requirements to explore the field, then return to school to become an RDH. Both roles are extremely important in patient care and invaluable to every dental office.
Dental Hygienists and Dental Assistants Are Vital
In the realm of dental practice, dental hygienists and dental assistants stand as integral pillars of care. Their complementary roles, while distinct in scope, intertwine to create a harmonious symphony of patient-centered care. The collaborative efforts between every dental team member help enrich patient experiences, optimize treatment outcomes, and elevate the overall quality of care provided.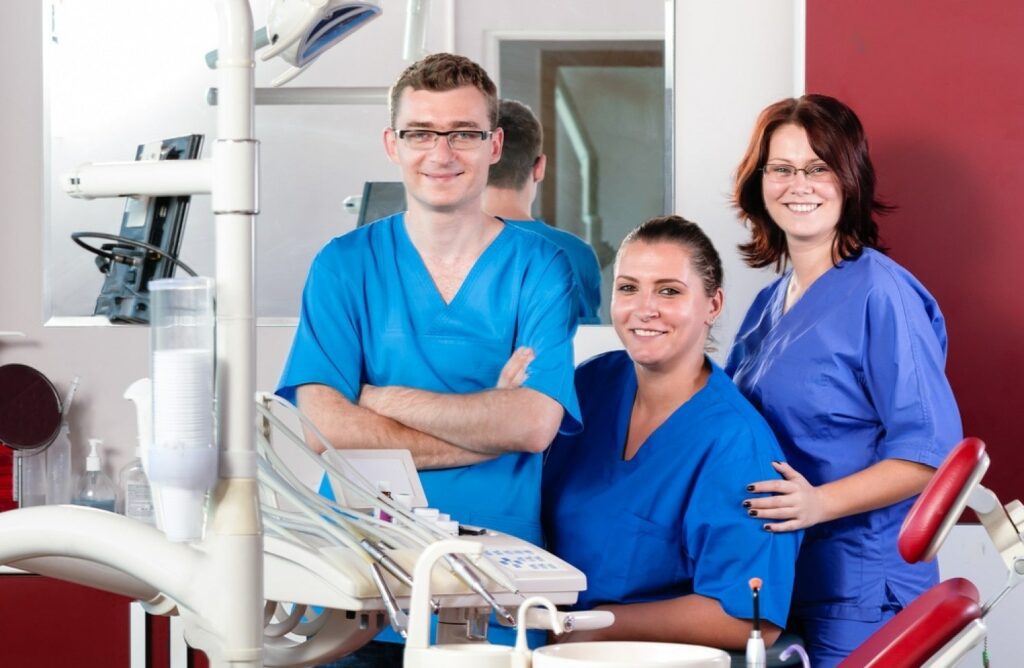 As someone considering a career in dentistry, both roles are vital in fostering a cohesive and thriving practice environment. Embracing effective communication, mutual respect, and an appreciation for continued learning ensures patient satisfaction and optimal care for the people in your community. Both career paths are extremely rewarding, so consider shadowing a professional near you to learn more about one of these job roles first hand!
Smile Smarter,
Dr. Joyce